---
---
The Avro Anson & Airspeed Oxford
v1.0.1 / 01 mar 18 / greg goebel
* While the British contribution to the Allied cause included significant combat aircraft such as the Spitfire, Hurricane, and Lancaster, the British aircraft industry was also able to produce utility aircraft to support the war effort. The most prominent of the British twin-engine utility aircraft during the war were the Avro "Anson" and Airspeed "Oxford", which were built in large quantity, and served in a number of roles. This document provides a history and description of the Anson and Oxford -- as well as the Percival "Petrel", a smaller twin that employed by the British military in limited quantities.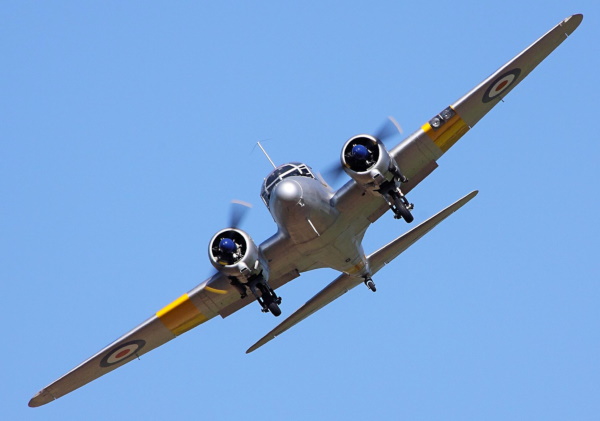 ---
[1] ANSON ORIGINS
[2] ANSON INTO SERVICE
[3] ANSON EVOLUTION
[4] ANSON IN POSTWAR SERVICE
[5] AIRSPEED ENVOY
[6] AIRSPEED OXFORD
[7] FOOTNOTE: PERCIVAL PETREL
[8] SOURCES & REVISION HISTORY
---
* A.V. Roe & Company had been an important manufacturer of military aircraft in the First World War. Just after the conflict, the Avro company tried to develop a light airliner, the "Type 547", which was a single-engine triplane with seats for five passengers, but it was a dismal failure, with only two built. A few years later, Avro developed the "Type 561 Andover" -- an oversized single-engine biplane that could haul twelve passengers or, in an air ambulance role, six stretcher cases. Only four were built, serving with the British Royal Air Force (RAF) in the air ambulance role. The Andover's failure was probably for the best; no aircraft that looked that ugly could possibly be any good.
More encouragingly, in 1928, the firm obtained a license to build the Dutch Fokker F.VII trimotor transport, giving the aircraft the designation of "Avro Ten". Avro found the experience of producing the Fokker design educational, pointing the firm to new concepts in design and production of aircraft. The firm exploited this lesson to develop their own refinement, the "Avro Eighteen" or "Avro 642"-- though none of this series were sold in more than penny packets.
In 1934, British Imperial Airways issued a request for a small four-passenger monoplane airliner for charter operations. Avro responded with a scaled-down version of the Avro Eighteen, designed the "Avro 652", with twin Armstrong Siddely Cheetah V seven-cylinder air-cooled radial engines, providing 215 kW (290 HP) each and driving two-bladed propellers. Landing gear was of taildragger configuration; the main gear retracted into the engine nacelles, but the tail gear was fixed.
The first flight of the initial Avro 652 prototype was on 7 January 1935; this machine and a second Avro 652 were delivered to Imperial Airways two months later. The design was very "clean", and the Avro 652 had an excellent, by the standards of the time, cruise speed of 266 KPH (165 MPH).
* While Avro was working to fulfill the Imperial Airways requirement, the British Air Ministry issued a requirement, "G.18/35", for a new coastal reconnaissance and patrol aircraft for the Royal Air Force (RAF). De Havilland responded with a derivative of the company's D.H.89A Dragon Rapide biplane", while Avro responded with a modified version of the Avro 652, the "Avro 652A".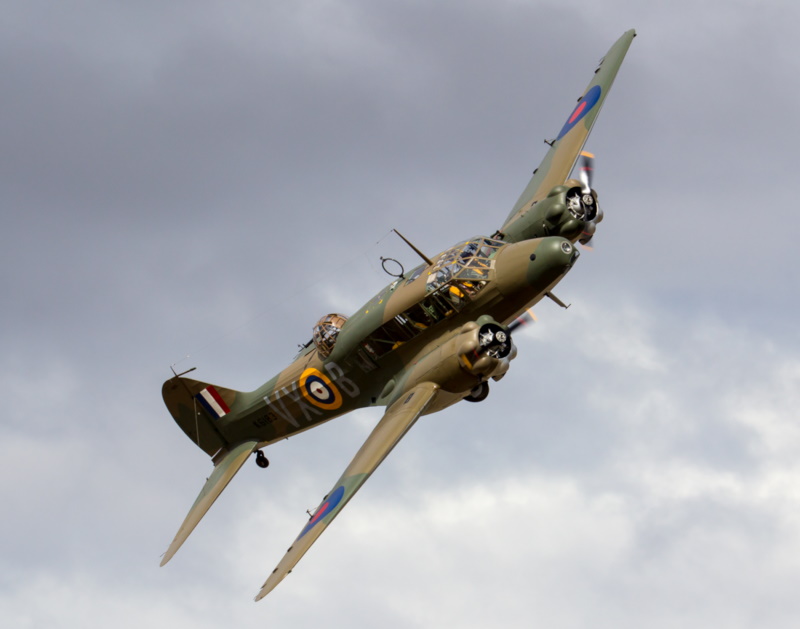 The Avro 652A differed from the civil version in having improved Cheetah VI engines; a large Armstrong Whitworth turret with a single 7.7-millimeter (0.303-caliber) Lewis machine gun on the back; an observation panel under the nose; and three square cabin windows on each side of the aircraft, replacing the oval windows of the civilian variant. The prototype Avro 652A was delivered for evaluation in April 1935, proving unquestionably superior to the de Havilland submission. An initial contract for 174 examples of the "Anson", as it was named, was awarded to Avro in July 1935. The contract specified many detail changes for production machines.
BACK_TO_TOP
* First delivery of the "Anson Mark I" was to RAF Number 48 Squadron at Manston in March 1936. Although the aircraft had been procured for maritime reconnaissance, the RAF was then committing to an "Expansion Scheme" to prepare for war with Hitler, and the Ansons were pressed into service as navigation trainers.
By mid-1938, Number 48 Squadron had about 80 Ansons on hand. Just before the outbreak of war, the Squadron was redeployed to coastal bases to fly the aircraft in the ocean-patrol role for which they had been originally intended. On 5 September 1939, only a few days after the outbreak of war, an Anson performed the first RAF aerial attack on a U-boat in the war.
By that time, flight crews had learned to like the Anson. The fuselage was made of steel tubing with fabric covering, the wings were built as spruce and plywood frames with plywood sheathing. The square windows alongside the fuselage provided an excellent view for observers. Along with the single 7.7-millimeter gun in the dorsal turret, Ansons used for maritime patrol had a single fixed 7.7-millimeter Vickers gun firing out the left side of the nose; they also carried flares and smoke floats, plus eight 9-kilogram (20-pound) bombs or two 112-kilogram (250-pound) bombs. The large bombs were stored on racks below the mid-fuselage, while the small bombs were stowed in bombbays in the wings, between the engines and the fuselage.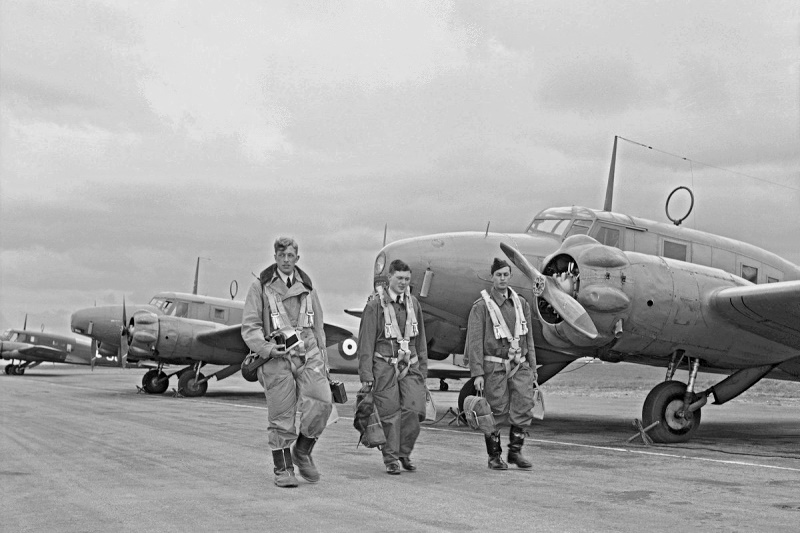 An inflatable survival dinghy was stowed in the top of the right engine nacelle, and the aircraft was fitted with direction-finding (DF) gear and a loop antenna. Whether the dinghy or DF gear was fitted to other variants is unclear, though pictures of Ansons used in training do not seem to have the loop antenna. The main landing gear had to be retracted with a hand-crank system, which made the process somewhat laborious. Such annoyances did not detract from the fact that the aircraft was strong, reliable, and handled well. Flight crews came to call it the "Faithful Annie".


   AVRO ANSON MARK I:
   _____________________   _________________   _______________________
 
   spec                    metric              english
   _____________________   _________________   _______________________

   wingspan                17.2 meters         56 feet 5 inches
   wing area               38.09 sq_meters     410 sq_feet   
   length                  12.88 meters        42 feet 3 inches
   height                  3.99 meters         13 feet 1 inch

   empty weight            2,438 kilograms     5,375 pounds
   MTO weight              3,629 kilograms     8,000 pounds

   max speed at altitude   305 KPH             190 MPH / 165 KT
   service ceiling         5,790 meters        19,000 feet
   range                   1,270 kilometers    790 MI / 685 NMI
   _____________________   _________________   _______________________


* With the arrival of better maritime patrol aircraft, such as the Lockheed Hudson, the Anson was phased out of combat service in 1940, to take up an honorable niche as a training and utility aircraft. The Ansons originally used for coastal patrol had their Armstrong Whitworth AW.38 turret removed, to be replaced by a Bristol Type I / Mark VI turret as used on the Bristol Blenheim. These aircraft were used for gunnery training, many being retained in that role to the end of the war.
In the meantime, Avro had begun production of a specific trainer version of the Anson Mark I, the trainer featuring a new two-piece windshield and split flaps. The flaps were hydraulically operated, though the hydraulic pump was hand-driven. These machines were used as navigation and radio operator trainers.
Even before the outbreak of war, Ansons were being supplied to British Commonwealth countries, with 80 being provided to the Royal Australian Air Force (RAAF) by August 1939. In December 1939, a formal "British Commonwealth Air Training Plan" was implemented, in which the Canadians would train bombardiers, navigators, and air gunners, with the Anson selected as an appropriate training aircraft. 223 Anson Mark Is were shipped to Canada for use in the plan. Some were fitted with Jacobs L6MB engines and became known as "Anson Mark IIIs", while others were fitted with Wright Whirlwind R-975-E3 engines. The Wright-powered aircraft were also known as Mark IIIs; they were generally despised, being very underpowered.
BACK_TO_TOP
* The Canadians also found the Anson extremely useful. As it was becoming obvious that Britain manufacturing was being overwhelmed by the war, in July 1940 the Canadian government established "Federal Aircraft Limited" to build Ansons for themselves. The first Federal "Anson Mark II" performed its initial flight in August 1941. This machine was much like the Anson Mark III, with Jacobs engines -- the main difference being the fact that its nose was built from a plastic-bonded plywood material known as "Vidal", and fitted with a small circular plastic nosecone for bomb-aiming.
Experience showed that the Vidal material held up very well to harsh Canadian winters, and so the logical thing to do was make more use of it to replace strategic materials such as steel. The result was the "Anson Mark V" and the "Anson Mark VI". These two variants were both powered by twin Pratt & Whitney R-985-AN14B Wasp Junior 9-cylinder radials. They retained the old Anson Mark II wings, but had a fuselage mostly made of Vidal, with tubular reinforcement for the cockpit, and three porthole windows on each side. The Mark V was a navigational trainer and had no turret, while the Mark VI was a gunnery trainer and had the Bristol turret used in Anson Mark I trainers used in the UK.
The Canadians built a total of 1,050 Mark Vs and VIs. They were sometimes painted bright orange, since they operated in an environment where it was very unlikely that anyone wanted to shoot at them -- but where inexperienced pilots were likely to have collisions around heavily-used training airfields. It also made them easier to spot if they were forced down in the woods or snow.
* The Mark VII, VIII, and IX variant numbers were reserved for Canadian production, but were never in fact built, and so the "Anson Mark X" followed the Mark VI. The Mark X was British-built, being intended for general liaison and communications duties. The most distinctive change was that the cowlings, which in all previous versions had been tight-fitting and had a fairing over each cylinder head, were replaced with simpler smooth cowlings. Ironically, the original Avro 652 had featured smooth cowlings as well. The Mark X also had a stronger floor.
The Mark X was followed by the "Anson Mark XI" and "Anson Mark XII", which were fitted with Cheetah XIX and Cheetah XV radial engines respectively. Both Anson variants had a distinctive raised fuselage roof to improve headroom. Late production Mark XIIs also had a new all-metal wing with a more tapered planform, and were given the designation of "Anson Mark XII Series 2". A number of Mark Is were updated to Mark XII specification. Most of the Mark XIs and Mark XIIs were used for liaison and communications or light passenger transport, though some were fitted out as air ambulances.
BACK_TO_TOP
* The Anson was a useful and pleasant aircraft, if clearly unspectacular. It hung on tenaciously to life after World War II, providing decades of diligent service. Avro continued production of the type as the "Avro Nineteen", which was designed as 7:9-seat short-haul passenger liner. The prototype was modified from an RAF Anson Mark XI, and featured replacement of the square windows with five oval portholes on each side of the aircraft; a solid nose; a larger entrance door; plus general improvement in noiseproofing and trim. It also had a 24-volt electrical system, plus Cheetah 15 radials and propellers with prominent spinners.
The Avro Nineteen proved popular with regional British air operators, including Railway Air Services and Scottish Airways. When these organizations were incorporated into the nationalized British European Airways (BEA in early 1947, their Avro Nineteens were gradually phased out in favor of the plentiful and much more capable Douglas Dakotas (DC-3 / C-47s) on the market after the war. However, they found good new homes as executive aircraft, as well as test aircraft for firms such as the Decca Navigation Company and Ekco Electronics.
The RAF also purchased the Avro Nineteen, designating it the "Anson Communications Mark 19 (C.19)", with 264 obtained into 1947. The type remained in service until 1968 for liaison and communications duties. On retirement in that year, the Anson had been in RAF service for 32 years, which was a record at the time.
Avro sold three Avro Nineteens to the Irish Air Corps, which had already operated four Anson Mark Is obtained in 1937 and 1938, plus five more ex-RAF aircraft supplied later. Afghanistan obtained twelve Avro Nineteens with minor changes as the "Anson Mark 18".
Late production Avro Nineteens had metal wings and tailplane and were designated the "Avro Nineteen Series 2". The RAF obtained three trainer derivatives of this type, including the "Anson Trainer Mark 20 (T.20)", which was a bombardier trainer with a transparent nose; the "Anson T.21", which was a navigation trainer; and the "Anson T.22", which was for training radio operators.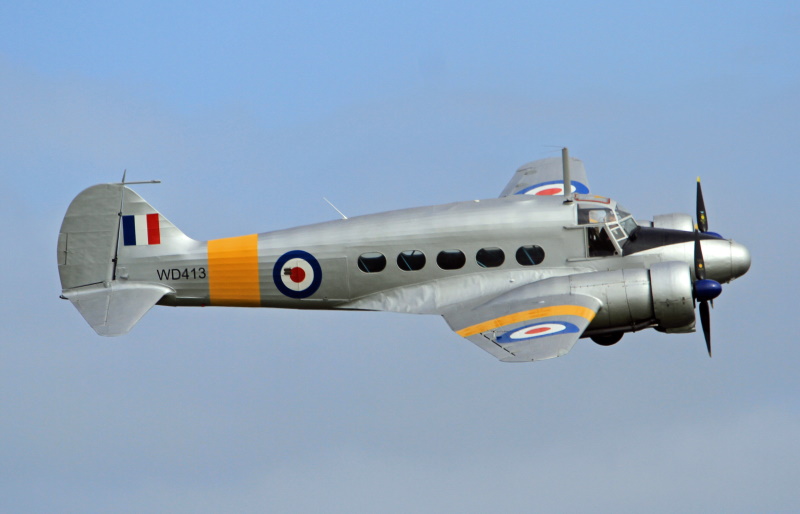 * A remarkable total of 11,020 Ansons was built in the UK and Canada. After military service, many of them ended up in civilian hands, where they were used mostly for light cargo transport duties. Six were painted with red crosses and used for mercy operations during the 1968 Biafran war, to be eventually lost due to operating attrition under difficult circumstances. Only a handful of Ansons survive today, with a few in flightworthy condition.
BACK_TO_TOP
* The Anson's popularity in British service was rivaled by that of another twin-engine utility-training aircraft, the Airspeed "Oxford", a derivative of the Airspeed "Envoy".
The Airspeed company had been established in 1931 -- one of the founders being aeronautical engineer Nevil Shute Norway, who as "Nevil Shute" would also become a best-selling author. The first aircraft to be produced by the company was the "AS.4 Ferry", a clumsy-looking three-engine biplane light airliner, with a capacity of ten seats. Only four were built.
The Ferry amounted to a training exercise for Airspeed, with the firm then moving on to a more modern aircraft, the "AS.5 Courier" -- designed by A. Hessell Tiltman, another one of the company's founders. The Courier was a neat single-engine monoplane of wood-fabric construction, with a low wing and five or six seats; it featured retractable taildragger landing gear, an advanced feature for the time. The initial AS.5 prototype was powered by an Armstrong Siddeley Lynx IVC seven-cylinder air-cooled radial engine, providing 180 kW (240 HP), this machine performing its initial flight on 11 April 1933. In production "AS.5A" machines, the cylinder heads were enclosed in a neat Townend ring cowling; there was also the "AS.5B" variant, featuring an Armstrong Siddeley Cheetah V seven-cylinder engine, providing 225 kW (305 HP). Wingspan was 14.33 meters (47 feet), length was 8.69 meters (28 feet 6 inches), and empty weight was 1,056 kilograms (2,328 pounds).
* Only 16 Couriers were built, one of them being obtained by the RAF before the war, nine more being pressed into service during the conflict, being used in the communications and light transport roles. The major reason for the short production life of the Courier was that Airspeed had moved on to a more capable twin-engine derivative of the Courier, the "AS.6 Envoy".
The Envoy was also designed by Tiltman, with initial flight of the prototype on 26 June 1934, and the first production machine flying in October of that year. The Envoy had an airframe similar to that of the Courier, though the Envoy had greater length and wingspan, with seating for eight passengers, plus an engine on each wing. It was, like the Courier, of wood construction, with plywood skinning, except for fabric-covered control surfaces; it retained the landing gear configuration of the Courier, though the main gear retracted back into the engine nacelles.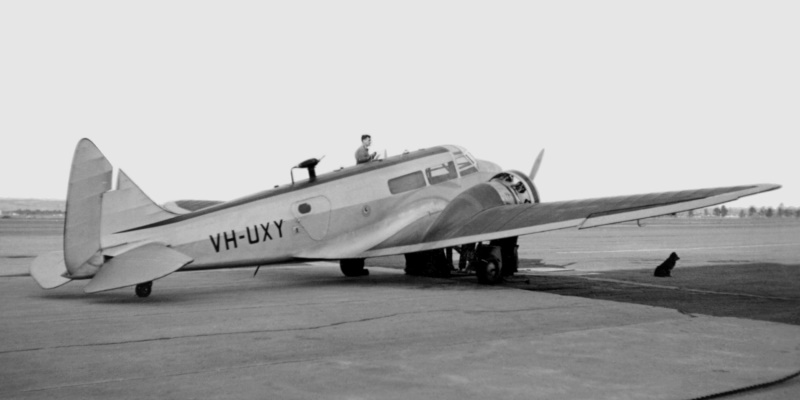 A total of 49 Envoys was built by Airspeed, in three series:
Mark I: No flaps, 17 built.


Mark II: Split flaps extending under belly, 13 built.


Mark III: Like Mark II, but with tweaky refinements.
A bewildering range of radial engines was fitted to these machines, including the Armstrong Siddeley Lynx IVC or Cheetah IX; the Wolseley Aries III or Scorpio I; the Wright Whirlwind 7; and the Walter Castor, with engine power ranging from 150 kW (200 HP), which was likely inadequate, to 260 kW (350 HP). A variety of cowlings was used, including Townend rings, or full cowlings with or without cylinder-head fairings.


   AIRSPEED ENVOY MARK III:
   _____________________   _________________   _______________________
 
   spec                    metric              english
   _____________________   _________________   _______________________

   wingspan                15.95 meters        52 feet 4 inches
   wing area               31.09 sq_meters     339 sq_feet   
   length                  10.52 meters        34 feet 6 inches
   height                  2.9 meters          9 feet 6 inches

   empty weight            1,840 kilograms     4,057 pounds
   MTO weight              2,858 kilograms     6,300 pounds

   max speed at altitude   340 KPH             210 MPH / 180 KT
   service ceiling         6,860 meters        22,500 feet
   range                   1,045 kilometers    650 MI / 565 NMI
   _____________________   _________________   _______________________


A militarized version, the "Convertible Envoy", was built that could be field-fitted with a dorsal turret, being armed with a single 7.7-millimeter (0.303 caliber) machine gun, and a forward-firing machine gun of similar caliber. It could be used as a light bomber, carrying munitions on external racks, or reconnaissance aircraft. A single Envoy was built as the long-range "AS.8 Viceroy" for an England-Australia air race in 1934, this machine featuring additional fuel tanks, beefed-up landing gear to handle higher takeoff weights, streamlined cowlings, and no passenger windows.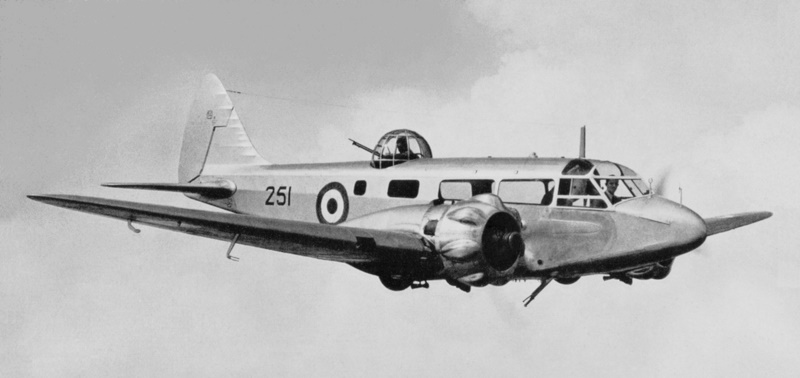 Envoys were exported to China, Czechoslovakia, France, India, and Japan. 11 were built under license in Japan by Mitsubishi as the "Hinazuru (Young Crane)", these machines being flown by Greater Japan Airways on domestic routes. During the Spanish Civil War, the Spanish Republicans flew ten Envoys, the Nationalists two, including one from the Republicans, thanks to a defector. They were used in transport, bombing, and reconnaissance roles. Some captures Envoys were flown by the German Luftwaffe during World War II, using them as multi-engine trainers.
Envoys were of course obtained by British and Commonwealth government and civil air services, with one Envoy III being obtained for the King's Flight, replacing a de Havilland Dragon Rapide in that role. Seven more militarized machines were obtained by the RAF, with a number of Envoys pressed into RAF service during the war as communications aircraft; at least one of these machines ended up in civil service after the conflict. Seven were obtained by South Africa, four going to South African Airways, three militarized machines going to the South African Air Force. It doesn't appear that any Envoys have survived.
BACK_TO_TOP
* As the RAF expanded in the 1930s, the service generated an operational requirement -- OR.42 -- for a new multi-engine training aircraft. Aircraft technology had advanced considerably in the previous few years, and there was a need for trainers with modern aircraft features, such as flaps and retractable landing gear.
Airspeed offered a derivative of the Convertible Envoy for the role, with the Air Ministry then issuing Specification T.23/36, on 10 July 1936, to cover the new aircraft, with an initial batch of 136 machines being placed. The initial prototype of the "AS.10 Oxford" performed its first flight from Portsmouth on 19 June 1937. Although Airspeed, not having previously built aircraft in much quantity, was stressed to deliver production aircraft, the Oxford was in service with the RAF Central Flying School by the end of the year.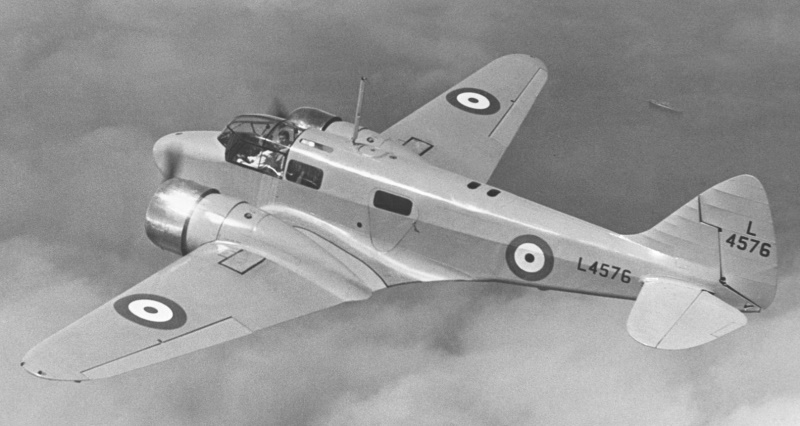 The Oxford was clearly a variant of the Envoy, with the same layout and construction, but the extent to which the two types of aircraft shared common assemblies is unclear. The Oxford was heavier than the Envoy, indeed its empty weight was somewhat greater than that of the Anson. The Oxford had a modified nose, featuring glazing for a bombardier in a prone position; it also had a greater wingspan. It was powered by Armstrong Siddeley Cheetah IX radial engines with 265 kW (350 HP) each, driving fixed-pitch propellers. Accommodations were customizable to the particular training mission:
For pilot training, it had two seats and dual controls -- incidentally, it had a dummy propeller pitch lever, just to ensure pilot cadets learned to use the thing. The controls were generally removed for other dedicated training efforts.


For bombardier training, the second seat was removed to allow accommodation of the prone bombardier. The bombardier could release practice bombs stowed in a belly well.


For navigation training, the second seat was pushed back to line up with a folding chart table.
There was also a dorsal turret for gunnery training, and a radio operator station behind the cockpit. In reality, this flexibility was overkill, the Oxford, or "Ox-Box" as it was nicknamed, mostly be used for pilot training. It proved notably useful for instrument / blind flight training.
Oxford proved satisfactory, the only major problem was that it wasn't very friendly in a spin. It was followed in production by the "AS.10 Oxford II" -- same as the Oxford I, but without the turret, being primarily used as a radio and navigation trainer. It was followed in turn by the "AS.46 Oxford V" -- which was much like the Mark II, but was powered by Pratt & Whitney R-985 Wasp Junior 9-cylinder radial engines with 335 kW (450 HP) each, driving Hamilton Standard variable-pitch propellers, meaning the pitch lever actually worked. Many Mark I and II Oxfords were upgraded to Mark V standard.


   AIRSPEED OXFORD MARK V:
   _____________________   _________________   _______________________
 
   spec                    metric              english
   _____________________   _________________   _______________________

   wingspan                16.26 meters        53 feet 4 inches
   wing area               32.33 sq_meters     348 sq_feet   
   length                  10.52 meters        34 feet 6 inches
   height                  3.38 meters         11 feet 1 inch

   empty weight            2,570 kilograms     5,670 pounds
   MTO weight              3,630 kilograms     8,000 pounds

   max speed at altitude   325 KPH             200 MPH / 175 KT
   service ceiling         6,400 meters        21,000 feet
   range                   1,125 kilometers    700 MI / 610 NMI
   _____________________   _________________   _______________________


There was also a single "Oxford III", which was the same as the Oxford II, but was powered by two Cheetah XV engines with 315 kW (425 HP) each and driving Rotol constant-speed propellers; and a single "Oxford IV", this designation being unofficial, powered by de Havilland Gipsy Queen IV inverted inline engines.
The Oxford was built in large quantities, with production was also performed by a number of other manufacturers, including de Havilland, Percival, and auto-maker Standard Motors. Some Oxfords were built in air ambulance, communications, or photo survey configurations, and there were a number of test-bed conversions. Oxfords were also attached to anti-aircraft gun batteries for calibration of radar and training.
Along with the hundreds of Oxfords obtained by the RAF, plus some obtained by the Royal Navy's Fleet Air Arm, the Oxford saw extensive service with Commonwealth forces:
New Zealand was one of the first foreign users, ordering five Oxford Is in 1937, one of them being configured as a photo-survey machine. The Kiwis would eventually acquire a total of 299 Oxfords.


The Royal Canadian Air Force ordered 25 Oxford Is in 1938, with these machines operated by the Central Flying School, with machines later being obtained off of RAF contracts.


The South African Air Force was allocated nearly 700 Oxfords for air training, with initial deliveries from late 1940. Attrition from accidents was notably high.


The Royal Australian Air Force (RAAF) obtained Oxford Is and IIs off of RAF contracts from 1941.
From 1942, the US Army Air Forces (USAAF) obtained 137 Oxfords on loan from the RAF -- most being used as communications aircraft within the UK, some being used for training with landing approach aids. The survivors were returned to the RAF in 1944. Two Oxfords were also used by the US Navy for communications in the UK, while the Australians similarly loaned Oxfords to the USAAF for use in Australia.
Portugal obtained six in 1943, presumably as a quid-pro-quo for friendly actions to the Allies; while Free French forces also obtained a handful of Oxfords in 1944. In the postwar period, Oxford users included Belgium, Burma, Ceylon, Denmark, Egypt, Greece, India, Iran, Israel, the Netherlands, Norway, Turkey, and Yugoslavia.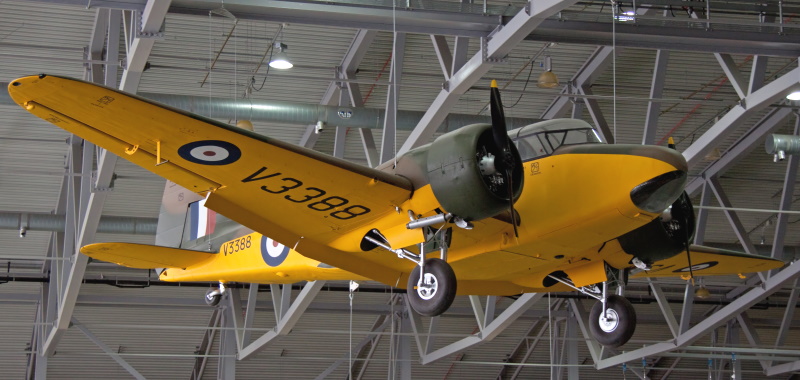 A total of 8,586 Oxfords was built, the last being delivered in 1945 -- 4,411 manufactured by Airspeed at its Portsmouth factory, and 550 at the shadow factory at Christchurch in Dorset; 1,515 manufactured by de Havilland at Hatfield; 1,360 manufactured by Percival Aircraft at Luton; and 750 manufactured by Standard Motors at Coventry.
After the war, 152 surplus Oxfords were refurbished into six-seat commercial airliners, and given the designation of "AS.65 Consul"; the price was right, and they sold very well. One Oxford was refitted with Alvis Leonides radials, and used for engine trials. Oxford lingered in service into the 1950s, the last RAF machine being retired in 1956. It doesn't appear any are still flying today, but a number of survivors are on static display in museums.
BACK_TO_TOP
* Along with the Anson and the Oxford, the RAF operated, in small numbers, a third twin-prop utility aircraft during World War II, the Percival "Petrel".
The Percival firm -- established at Luton in the UK in 1933 by Edgar W. Percival, an Australian air racer and aircraft designer -- began its life producing the sporty little "Gull" series of air racers. Percival quickly moved on to a more ambitious aircraft, a twin-engine light airliner, the "Q.6". It had a capacity of six passengers; it performed its initial flight on 14 September 1937, with the first production machine delivered the next year. A similar "Q.4" four-seat executive transport was considered, but not built.
The Q.6 had the same general configuration as the Anson and Envoy / Oxford -- being a low-winged, twin-engine monoplane with traildragger landing gear -- but was smaller, with an empty weight about two-thirds that of the Anson. It had a wood airframe, with plywood and fabric covering; the powerplants were de Havilland Gipsy Six inverted inline six-cylinder engines, with 155 kW (205 HP) each and driving two-blade fixed-pitch props. The landing gear was fixed, with the main gear in "trousers". Only 27 Q.6s were built, including the prototype, with the four of them featuring retractable main gear.


   PERCIVAL Q.6 / PETREL:
   _____________________   _________________   _______________________
 
   spec                    metric              english
   _____________________   _________________   _______________________

   wingspan                14.22 meters        46 feet 8 inches
   wing area               25.83 sq_meters     278 sq_feet   
   length                  9.83 meters         32 feet 3 inches
   height                  2.97 meters         9 feet 9 inches

   empty weight            1,590 kilograms     3,500 pounds
   MTO weight              2,495 kilograms     5,500 pounds

   max speed at altitude   315 KPH             195 MPH / 170 KT
   service ceiling         6,400 meters        21,000 feet
   range                   1,205 kilometers    750 MI / 650 NMI
   _____________________   _________________   _______________________


The RAF obtained seven of them for communications duties under Air Ministry Specification 25/38, giving them the name of "Petrel". When war broke out, those Q.6s that the British authorities could get their hands on were impressed into service. The survivors were sold off to commercial and private operators after the war.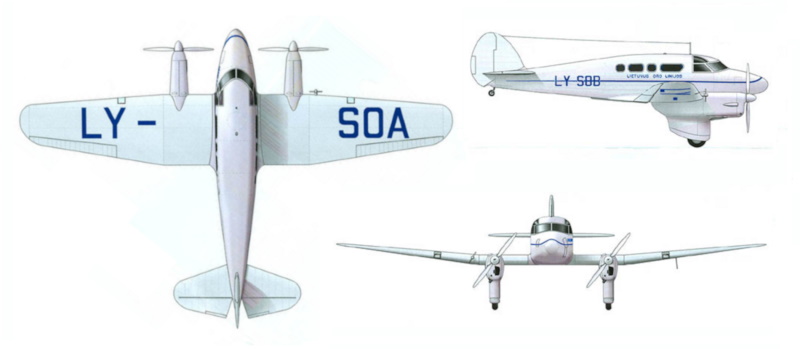 Two Q.6s were also obtained by the Egyptian government; two Q.6s that had been obtained by Lithuania were pressed into Soviet service from 1940. Percival was bought out by Hunting & Son LTD in 1944, with the Percival name dropped in the 1950s, the Hunting firm becoming best-known for the "Hunting Provost" jet trainer. There are photos of postwar Petrels in flightworthy condition, but their current status is unclear.
BACK_TO_TOP
* I don't believe I've ever seen an Anson in an air museum, and certainly have not seen an Oxford or Petrel. Hopefully, the Anson still being fairly common, I will find one eventually.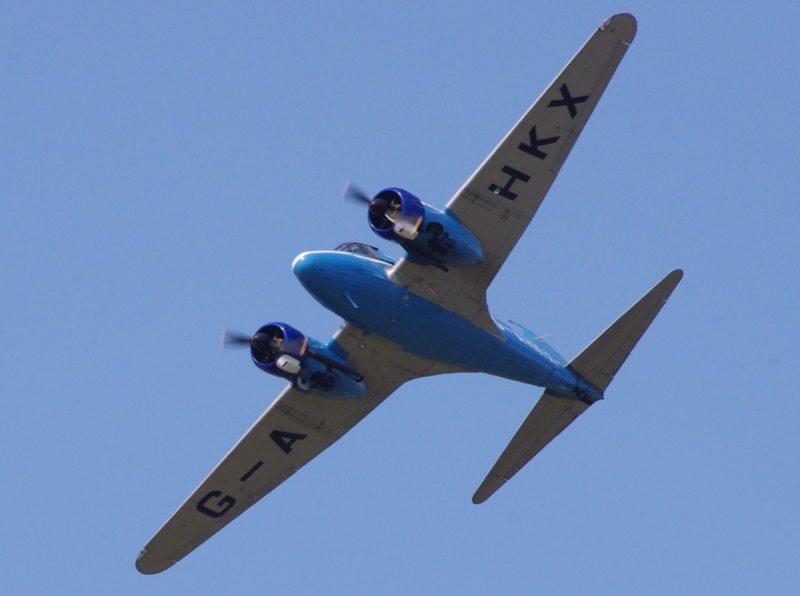 * As concerns copyrights and permissions for this document, all illustrations and images credited to me are public domain. I reserve all rights to my writings. However, if anyone does want to make use of my writings, just contact me, and we can chat about it. I'm lenient in giving permissions, usually on the basis of being properly credited.
* Sources include:
THE AIRSPEED OXFORD by John D.R. Rawlins, PROFILE PUBLICATIONS, 1971.


BOMBERS OF WORLD WAR II, edited by David Donald, Metro Books, 1998.
* Revision history:

   v1.0.0 / 01 apr 16 
   v1.0.1 / 01 mar 18 / Review & polish.

BACK_TO_TOP
---
---

---