---
---
The Bell 222 & Bell 525
v1.1.0 / 01 jan 18 / greg goebel
* In the 1970s, Bell Helicopter introduced a twin-turbine rotorcraft, the "Bell 222", for the commercial market, following it with refined "Bell 230" and "Bell 430" variants. It proved only moderately successful, the last of the line being delivered in 2008. However, it has been followed in the 21st century by a substantially larger twin-turbine helicopter for the commercial market, the "Bell 525 Reliant". This document provides a history and description of the Bell 222 series and the Bell 525.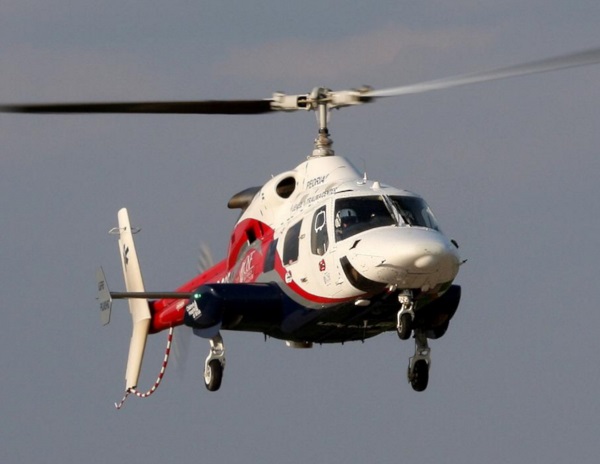 ---
[1] BELL 222 & 230
[2] BELL 430
[3] BELL 525 RELENTLESS / FC-X
[4] COMMENTS, SOURCES, & REVISION HISTORY
---
* In the late 1960s, the Bell helicopter company began design work on a new twin-turbine light helicopter, leading to the public display of a mockup at Heli-Expo 1974 in San Diego. On obtaining positive feedback from potential customers, Bell went into full development of the new rotorcraft, which was designated the "Model 222". Initial flight of the first of five Bell 222 prototypes was on 13 August 1976, with certification following in 1979, and customer deliveries a year after that.
The Bell 222 was made mostly of aircraft aluminum alloy. It was of conventional main / tail rotor helicopter configuration, with a two-blade main rotor and two-blade tail rotor, mounted on the left side of the tailboom. The rotor system was derived from that of the Bell AH-1 Cobra gunship; the main rotors were made of fiberglass with a steel core, and featured elastomeric bearings, while the tail rotor was made of stainless steel. A rotor brake was standard. There was no option for rotor folding. There was a ventral fin at the end of the tailboom, the fin being tipped with a small skid, with a tailplane featuring endplate fins midway along the tailboom.
The Model 222 was powered by twin Lycoming/Honeywell LTS-101-650C-2 turboshaft engines, rated at 440 kW (590 SHP) continuous each, mounted on top of the cabin, aft of the rotor pylon. The Bell 222 had hydraulically retracting landing gear, all gear with single wheels, the castoring nose gear retracting forward, the main gear tucking inward into sponsons; the landing gear automatically extended in case of hydraulic system failure. There were three bladder fuel tanks, one in the fuselage, one in each sponson, with single-point refueling.


   BELL 222:
   _____________________   _________________   _______________________
 
   spec                    metric              english
   _____________________   _________________   _______________________

   main rotor diameter     12.12 meters        39 feet 9 inches
   tail rotor diameter     1.98 meters         6 feet 6 inches
   fuselage length         12.85 meters        42 feet 2 inches
   footprint length        15.1 meters         49 feet 6 inches
   height (1)              3.51 meters         11 feet 6 inches

   empty weight            2,190 kilograms     4,828 pounds
   MTO weight              3,560 kilograms     7,850 pounds

   max cruise speed        240 KPH             150 MPH / 130 KT
   service ceiling         3,900 meters        12,800 feet
   hover ceiling (2)       2,680 meters        8,800 feet
   hover ceiling (3)       1,770 meters        5,800 feet
   range, max fuel         525 kilometers      325 MI / 280 NMI
   _____________________   _________________   _______________________

   (1) height to top of rotor head
   (2) hover ceiling in ground effect
   (3) hover ceiling out of ground effect.


Avionics were typical for the time, including radio and blind-flying kit, other avionics such as weather radar being optional. There were one or two flight crew, with seven passengers in a 2:3:3 seating arrangement with one pilot, or six passengers if there were two pilots; a high-density eight-passenger arrangement, with 2:2:3:3 seating, was optional. There were doors on each side of the cockpit, plus doors directly behind them on each side of the passenger compartment, all doors being hinged on the front. There was a baggage hold in the rear of the passenger compartment, with a door on the right side of the fuselage. Heating and air conditioning were optional.
An executive configuration, with a more sophisticated avionics suite and five or six seats, was also available, and the machine could be configured for utility or emergency medical service (EMS) operations. Other options included inflatable flotation gear, and a belly cargo hook.
* The baseline Model 222 was followed in 1982 by the "Bell 222B", with LTS 101-750C-1 engines providing about 10% more power, and a main rotor extended to 12.8 meters (42 feet). A variant of the Model 222B featuring skid landing gear, the "Bell 222UT", was introduced in 1983, with the deletion of retractable landing gear permitting more fuel capacity. 199 Bell 222s of all variants were built up to end of production in 1991.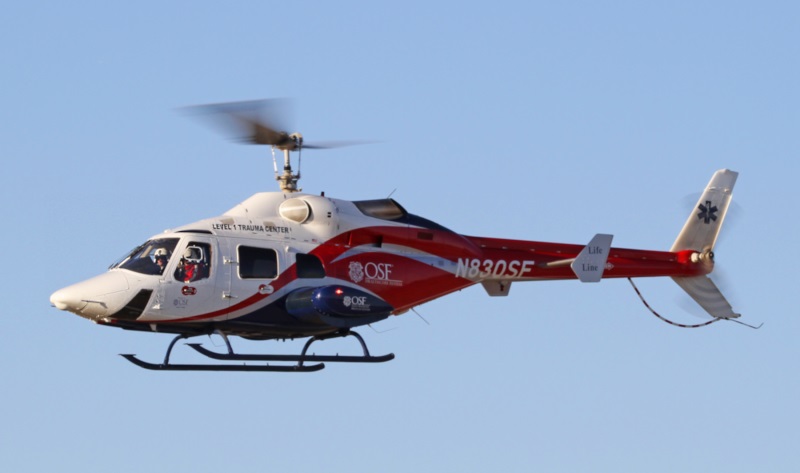 In the late 1980s, Bell decided to perform a general upgrade of the type, with the first "Bell 230" prototype, a conversion of a Model 222, performing its initial flight on 12 August 1991. It switched the LTS101 turboshafts of the earlier variants with Rolls-Allison 250-C30G/2 turboshafts, slightly more powerful than the LTS-101-750C engines, with wheel or skid landing gear at customer option. Images of the Model 230 show it with a partial hoop tail rotor guard running from the ventral fin to the tailboom, but this may have been fitted in part of Model 222 production as well. Certification was awarded in 1992, with initial customer deliveries late in the year.
Production of the Bell 230 ended in 1995, after the delivery of a meager 38 machines. During the 1990s, some baseline Bell 222s were refitted with the Rolls-Allison 250-C30G engines for improved engine-out performance, and redesignated "Model 222SP".
BACK_TO_TOP
* In 1991, Bell began studies of a stretched derivative of the Model 230, with a four-blade main rotor. The "Bell 430" program was launched in early 1992, with two prototypes rebuilt from Model 230s. The first prototype performed its initial flight on 25 October 1994, with the second, featuring full avionics kit, following in December of that year. Initial deliveries were in 1996.
The four-bladed rotor was of composite construction, and featured a bearingless, hingeless rotor hub. It was powered by twin Rolls-Allison 250-C40 turboshafts with full authority digital engine control (FADEC), providing 585 kW (785 SHP) each. The Model 430 was 46 centimeters (18 inches) longer than the Model 230, giving more space in the passenger compartment.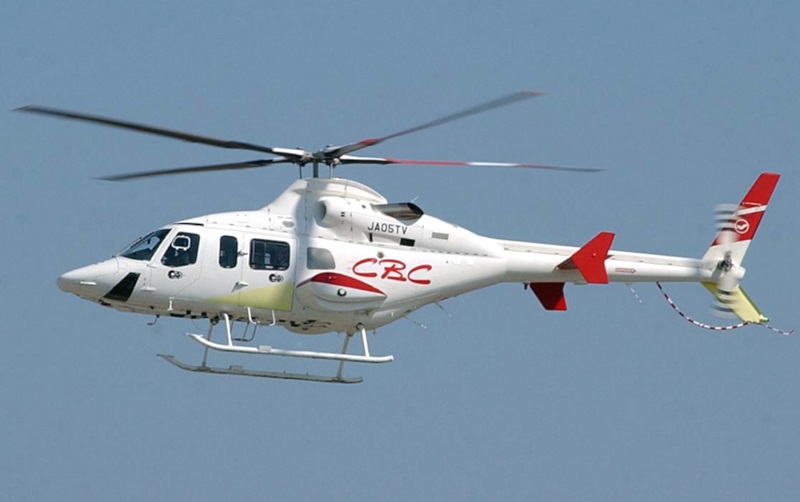 Standard seating was seven passenger seats in three rows, forward facing, with three seats in the rear and two seats in the forward two rows; ten seats could be fitted, with three seats in the middle row. An executive configuration featured six seats, in two rows of three, facing each other. An EMS configuration, with one or two litters and correspondingly four or three seats, was also offered. Door arrangement was the same as with the Bell 230, but the passenger door was separated from the cockpit door by a window -- providing a distinctive recognition feature, along with the four-blade rotor.


   BELL 430:
   _____________________   _________________   _______________________
 
   spec                    metric              english
   _____________________   _________________   _______________________

   main rotor diameter     12.8 meters         42 feet
   tail rotor diameter     2.1 meters          6 feet 11 inches
   fuselage length         13.43 meters        44 feet 1 inch
   footprint length        15.29 meters        50 feet 2 inches
   height, wheels (1)      4.03 meters         13 feet 3 inches
   height, skids (1)       4.03 meters         13 feet 3 inches

   empty weight            2,388 kilograms     5,265 pounds
   MTO weight              4,200 kilograms     9,260 pounds

   max cruise speed        260 KPH             160 MPH / 140 KT
   service ceiling         5,600 meters        18,340 feet
   hover ceiling (2)       3,460 meters        11,350 feet
   hover ceiling (3)       2,665 meters        8,750 feet
   range                   500 kilometers      310 MI / 270 NMI
   _____________________   _________________   _______________________

   (1) height to top of rotor head
   (2) hover ceiling in ground effect
   (3) hover ceiling out of ground effect.


The Bell 430 also featured an optional electronic flight information system (EFIS) flight deck, and a choice of retractable or skid landing gear. The Model 430 could be obtained with a sling attachment, allowing it to lift an external load of 1,585 kilograms (3,500 pounds). Imagery shows Model 430s with cable cutters or an undernose imaging turret, presumably as after-market fits. Sales of the Bell 430 were modest, with 136 built to end of production in 2008.
BACK_TO_TOP
* At Heli-Expo 2012 in Dallas, Bell announced the company's biggest commercial helicopter ever the "Model 525 Relentless", with a capacity of up to 20 passengers or cargo load of 1,800 kilograms (4,000 pounds). It is a new design and not a member of the Model 222 family, but it most closely resembles the Model 222 among Bell's product line.
Initial flight of the first Bell 525 prototype was on 1 July 2015, with flight of a second prototype before the end of that year; three more test machines are to follow. The Model 525 features five-blade main rotor and four-blade tail rotor, both of composite construction and with de-icing. It is built roughly equally of composites and aircraft aluminum alloy, and is powered by twin GE CT7-2F1 turboshafts providing 1,340 kW (1,800 SHP) each. Landing gear arrangement is like that of the Model 222 -- retractable, with the main gear tucking into sponsons, though the nose gear has twin wheels. Maximum takeoff weight will be in excess of 8,150 kilograms (18,000 pounds).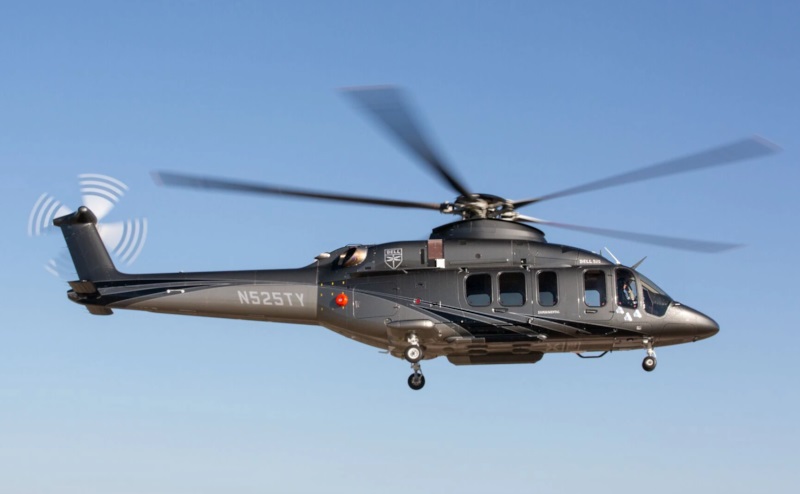 The Bell 525 features a Garmin 5000H glass cockpit with four large touchscreen displays, and a triple-redundant fly-by-wire (FBW) control system developed by BAE Systems, using twin sidestick controllers -- featuring tactile feedback, instead of the classic cyclic / collective / tail rotor controls. The FBW system was derived from that developed for MV-22 and BA 609 tilt-rotor machines; it's something effectively new for Bell, and Bell plans to introduce it to other helicopter lines. The flight system is built around an "Awareness, Reactive, & Control (ARC)" scheme that automatically deals with potentially hazardous flight incidents while keeping the pilot informed.
The Bell 525 will feature one or two aircrew, with standard seating for 16 passengers, and high-density seating for 20, with illumination provided by a LED lighting scheme. The passenger cabin has a flat floor and is easily reconfigured for different roles. Bell is targeting the Model 525 at oil and gas, paramilitary, hospital EMS, firefighting, and corporate roles. Full specifications of the Bell 525 haven't been released yet. Certification is expected in 2017.
* In 2017, Bell unveiled a concept helicopter, the "Future Copter X (FCX)", that would seat eight to twelve passengers, along with a single pilot, making it somewhat smaller than the Model 525. It is envisioned as a hybrid turbine-electric design, with no tail rotor or tailplane, instead using a set of electrically-driven fans in the tailboom to counter torque and provide flight control; Bell calls it a "cross-flow anti-torque system". The scheme promised to reduce weight and improve safety on the ground.
The FCX would have features much like those of existing helicopters, such as a reconfigurable interior and passenger entertainment system. Concept imagery shows retractable tricycle landing gear, a five-blade main rotor, top-hinged cockpit doors, top-hinged single-piece passenger doors, two rows of bucket seats for eight passengers; twelve seats would presumably be accommodated with a forward back-facing row of seats.
Whizzy features include variable-sweep blade tips, to optimize performance in different flight regimes; similarly variable engine intakes; landing gear capable of tolerating high impacts; a highly-automated "augmented reality" cockpit, lacking much in the way of a dashboard; and optional unpiloted operation. There's no plan to develop the FCX, concept machines being seen as playing with ideas to see if anything interesting can be made of them.
BACK_TO_TOP
* As a footnote, in the 1980s Bell developed an experimental helicopter for the US Army's "Advanced Composite Airframe Program (ACAP)", with the "Bell D292" performing its initial flight on 30 August 1985. The Bell ACAP featured the engines, rotor system, and tailboom of the Bell 222. The airframe featured assemblies using a range of materials: graphite-epoxy, kevlar-epoxy, fiberglass, along with aircraft aluminum alloy. The D292 featured fixed wheeled landing gear with shock-absorbing, and shock-absorbing seats. What happened to the D292 after the end of trials is unclear.
* As another footnote, the Bell 222 played a starring role in the popular US television series AIRWOLF, which ran for four seasons from 1984, the Airwolf "supercopter" at the center of the show being piloted by Jan-Michael Vincent and Ernest Borgnine. The sci-fi Airwolf was portrayed by a baseline Model 222 with a number of dummy fixtures added, such as a concealed inflight refueling socket in the nose; turbojet engines in the wingroots; automatic cannon that could be extended from the sponsons; and a retractable belly rocket pack. The Airwolf helicopter was supposed to be "stealthy", both by the fact that it looked like a civil helicopter at first glance, and by the fact that it could silently cruise and defy radar with sophisticated countermeasures systems.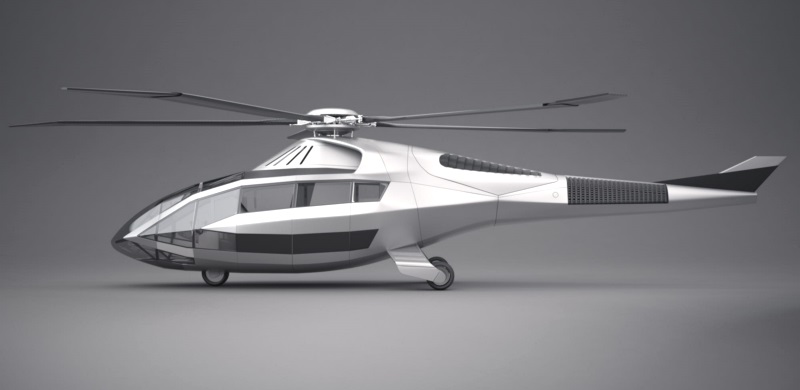 It also supposedly had sophisticated sensor and computer systems. It could even fly at supersonic speeds and to stratospheric heights, with the rotor system uncoupled and the turbojets taking over, the machine supposedly having a "lifting body" configuration to keep it flying. Imaginative sound effects were used to suggest its advanced capabilities. After the show ended, the Airwolf helicopter was restored to commercial configuration and sold on the commercial market, to be lost in a fatal crash. A nonflying replica of the Airwolf machine was built, however, and is on display at the Tennessee Museum of Aviation in Sevierville.
* As concerns copyrights and permissions for this document, all illustrations and images credited to me are public domain. I reserve all rights to my writings. However, if anyone does want to make use of my writings, just contact me, and we can chat about it. I'm lenient in giving permissions, usually on the basis of being properly credited.
* Sources include:
"Bigger Bell [Model 525]" by Guy Norris, AVIATION WEEK, 20 February 2012, 36:37.


"Bell Targets Rotorcraft Lead With Concept Helicopter [FC-X]" by Tony Osborne, AVIATION WEEK Online, 7 March 2017.
Most of the details in this document were obtained from various volumes of JANE'S ALL THE WORLD AIRCRAFT, and from the online Wikipedia.
* Revision history:

   v1.0.0 / 01 feb 16
   v1.1.0 / 01 jan 18 / Review & polish.

BACK_TO_TOP
---
---

---