---
---
The De Havilland Dove & Percival Prince
v1.0.0 / 01 dec 16 / greg goebel
* Britain developed a series of airliners and transport aircraft in the aftermath of World War II, the lot of them proving something of a mixed bag. One of the most successful was the de Havilland "Dove" twin-piston airliner, which led to the larger "Heron" four-piston airliner. The contemporary Percival -- later Hunting -- "Prince" twin-piston transport and its "Pembroke" derivative were not as successful, but were still built in good quantities, serving with some distinction in military service. This document provides a history and description of the Dove / Heron and Prince / Pembroke families of aircraft.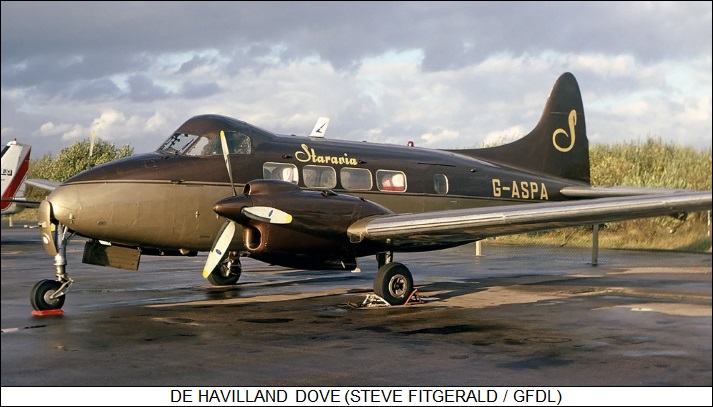 ---
[1] DE HAVILLAND DOVE
[2] DOVE IN SERVICE / DOVE VARIANTS / DHA.3 DROVER
[3] DE HAVILLAND HERON
[4] PERCIVAL (HUNTING) PRINCE & PEMBROKE
[5] COMMENTS, SOURCES, & REVISION HISTORY
---
* In 1943 the British government, anticipating a postwar resurgence in passenger airline operations, set up a committee under Lord Brabazon of Tara to determine what aircraft should be built to service the market. The "Brabazon Committee" began meetings in early 1943, working with members of the state-owned airlines British Overseas Airways Corporation (BOAC) and, later, British European Airways (BEA). Initially, the committee established four different requirements for airliners:
Type I: A large luxury airliner for trans-Atlantic service.


Type II: A short-haul feederliner, intended to replace the de Havilland Dragon Rapide and the Douglas DC-3.


Type III: A larger medium-range aircraft, servicing the British Empire on multihop routes.


Type IV: A next-generation turbojet airliner, with 100 seats, which would emerge as the de Havilland Comet jetliner.
The requirement list evolved, with the Type II becoming a bigger aircraft -- resulting in the successful Vickers Viscount four-turboprop airliner -- with a "Type V" then specified to perform the short-haul airliner role. The de Havilland firm took on the job of designing a Type V aircraft, under Air Ministry Specification 26/43, as a direct replacement for the prewar DH 86 Dragon Rapide twin-piston biplane.
The new airliner, a twin-piston monoplane designated the "DH.104", was designed by a team under Ronald Bishop, who had directed the development of the de Havilland Mosquito fast bomber, and would be in charge of development of the Comet. Initial flight of the first DH.104 prototype was on 25 September 1945, with test pilot Geoffrey Pike at the controls. A second prototype followed in early 1946, but was lost in a crash. The program went ahead, with line production of the "Dove Series 1" beginning in that year, and customer deliveries following.
As it emerged, the Dove was a plain, clean, and utilitarian aircraft, obviously designed for work. It was of all-metal construction, except for fabric-covered rudder and elevators; it had a low wing, retractable tricycle landing gear, and was powered by twin de Havilland Gipsy Queen 70 six-cylinder inverted-inline air-cooled engines with supercharging, providing 245 kW (330 HP) and driving three-bladed de Havilland Hydromatic variable, fully reversible propellers. Flight controls were conventional -- large one-piece flaps, ailerons, elevators, rudder -- and manually actuated. The tailfin had a prominent, smoothly curved forward fillet, added after early prototype flights raised concerns about engine-out handling.
All landing gear had single wheels, the nose gear extending forward to the extreme front of the aircraft, the main gear pivoting downward towards the fuselage from under the rear of the engines. There was a bumper under the tail to protect the tail from strikes. The 15th production machine, obtained by de Havilland Canada, was fitted with floats, but no others ever were.


   DE HAVILLAND DOVE MARK I:
   _____________________   _________________   _______________________
 
   spec                    metric              english
   _____________________   _________________   _______________________

   wingspan                17.37 meters        57 feet
   wing area               31.1 sq_meters      335 sq_feet   
   length                  11.96 meters        39 feet 3 inches
   height                  4.06 meters         13 feet 4 inches

   empty weight            2,655 kilograms     5,650 pounds
   MTO weight              3,855 kilograms     8,500 pounds

   max speed               340 KPH             210 MPH / 180 KT
   cruise speed            265 KPH             165 MPH / 145 KT
   service ceiling         6,100 meters        20,000 feet
   range                   1,600 kilometers    1,000 MI / 870 NMI
   _____________________   _________________   _______________________


There were two crew, sitting under a bulged canopy to give better vision and headspace. Early Doves had all-glazed canopies, but later production had roof canopies of the same general configuration; when the change was made, and why, is unclear, but possibly the all-glazed canopy was too much of a "hotbox" in the bright sun. Avionics were typical for the era, including radios, navigation aids, and landing aids, but no radar.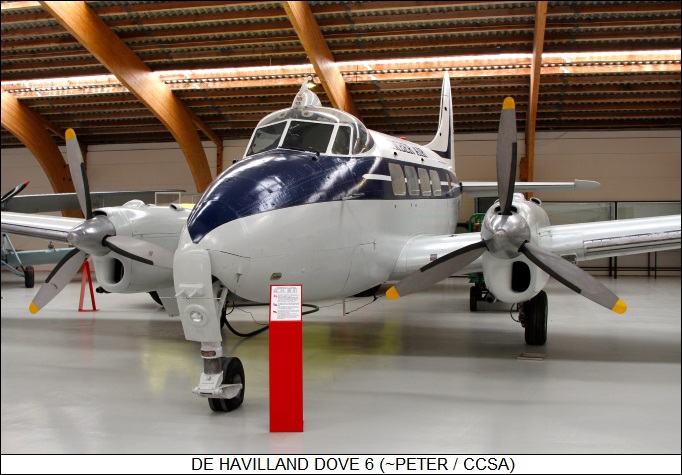 There was seating for eight passengers, in four rows of two seats, with a lavatory and baggage compartment at the rear. Crew and passenger access via a forward-hinged door on the rear left fuselage, with a door to the baggage hold on the rear right fuselage. There was a door under the cockpit to the left, it seems for a smaller forward baggage hold. Eleven seats were fitted in a high-density configuration for "puddle-jumping" flights, with the lavatory eliminated and the baggage compartment reduced in size.
BACK_TO_TOP
* Dove sales got off to a slow start in the UK, the machine being a bit too spendy for a period of financial austerity; the stalwart Dragon Rapide would actually persist in service alongside the Dove. Most initial production went overseas, to air services in Australia, the Azores, Belgium, Brazil, Burma, Chile, Ethiopia. India, Iraq, South Africa, West Africa. Argentina was particularly enthusiastic, obtaining at least 70 -- most, it seems, for service with the Argentine military.
In 1948, de Havilland introduced the "Dove 2", which was Dove Series 1 configured as a six-seat executive transport. It proved popular in the USA, where foreign-built aircraft generally had a hard time gaining acceptance, with over a hundred sold. The "Dove 3" was an air survey version that was never built.
The "Dove 4" was a military liaison and communications variant, being known as the "Devon". 39 were built for the British Royal Air Force (RAF) as the "Devon C Mark 1"; some or all were later upgraded with Gipsy Queen 70-2 engines with 285 kW (380 HP) each, providing about 20% more maximum take-off weight. The Royal Navy obtained 13 "Sea Devon C.20" machines, though these appear to have been recycled civilian Doves. The Devon was also obtained by military services of a number of countries, including Ceylon, Congo, Egypt, Ethiopia, India, Iraq, Ireland, Jordan, Lebanon, New Zealand, Pakistan, South Africa, and Sweden.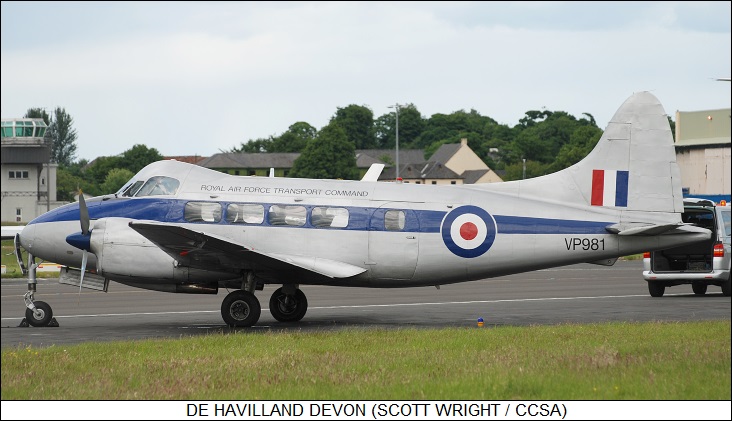 The "Dove 5" and "Dove 6" were much the same as the Dove 1 and Dove 2, respectively, but with Gipsy Queen 70-2 engines; some Dove 1 and Dove 2 aircraft were upgraded with such engines, to become the "Dove 1B" and "Dove 2B" respectively. There was a "Dove 6B" that had higher rated maximum take-off weight than the Dove 6.
The "Dove 7" and "Dove 8" were equivalent to the Dove 1 and Dove 2 respectively, but with Gipsy Queen 70-3 engines providing 300 kW (400 HP) each, resulting in a further increase in MTO. While to this time the only noticeable external change in the Dove had been reprofiled elevators, the Dove 7 and Dove 8 were recognizable by a distinctive enlarged oil cooler intake on the top of each engine nacelle -- plus a raised canopy, derived from the DH Heron, discussed below. Dimensions were the same as the Dove 1, but weight increased by about 10%, with ceiling and cruise speed increased by the same amount, while range was comparably reduced. Puzzlingly, there are Devons with the same features, suggesting that Devon production was revised as improved Dove variants were introduced.
Initial flight of the Dove 8 prototype was in 1960, with deliveries from 1961. The Dove 8 was sold in the USA with the grandiloquent title of "Dove Custom 800". The last of 542 Doves (including over hundred Devons) was delivered in 1968 -- by Hawker Siddeley, which had absorbed de Havilland in 1960.
In the US, two firms decided they could improve on the Dove:
Riley Aeronautics Corporation of Fort Lauderdale, Florida, came up with a "Riley Turbo Executive 400" conversion, the primary change being fit of flat-eight air-cooled Lycoming IO-720-A1A piston engines with turbochargers, providing 300 kW (400 HP) each and better high-altitude performance. These conversions also included a new cockpit and interior, as well as a swept tailfin. 17 Turbo Executive 400 conversions were performed from 1963 -- four of them performed by McAlpine Aviation in the UK, three of these machines not having the swept tailfin. There are hints of other Lycoming conversions of Doves.


Carstedt Air INC of Long Beach, California, came up with a more ambitious conversion, the "Carstedt Jet Liner 600", which featured fore and aft fuselage plugs to stretch the Dove by 2.22 meters (7 feet 3 inches), allowing seating of 18 passengers; the cockpit moved forward and the roof lowered; powerplants updated to Garett AiResearch TPE331 turboprops, providing 445 kW (605 SHP) each and driving three-bladed Hartzell reversible propellers; and additional fuel in the wings. The first such conversion took to the air in 1966, with a small quantity, maybe a half dozen, of such conversions performed in all, most being supplied to Apache Airlines of Phoenix, Arizona.
The Dove lingered in service through the rest of the century, with a few still flying. Many others were retired as static museum displays.
* De Havilland Australia, in response to a need for aircraft to support the Outback "Royal Flying Doctor" service, came up with a derivative of the Dove, the "DHA.3 Drover", in tri-motor configuration and with fixed tailwheel landing gear, tailwheel gear being preferred to tricycle landing gear for bush operations. Initial flight of the prototype was on 23 January 1948.


   DE HAVILLAND AUSTRALIA DHA.3 DROVER 2:
   _____________________   _________________   _______________________
 
   spec                    metric              english
   _____________________   _________________   _______________________

   wingspan                17.37 meters        57 feet
   wing area               30.23 sq_meters     325 sq_feet   
   length                  11.28 meters        37 feet
   height                  3.28 meters         10 feet 9 inches

   empty weight            1,815 kilograms     4,000 pounds
   MTO weight              2,950 kilograms     6,500 pounds

   max speed               255 KPH             160 MPH / 135 KT
   cruise speed            265 KPH             125 MPH / 110 KT
   service ceiling         6,100 meters        20,000 feet
   range                   1,450 kilometers    890 MI / 780 NMI
   _____________________   _________________   _______________________


For the initial "Drover 1", engines were four-cylinder Gipsy Major Mark 2 inverted inlines with 110 kW (145 HP), driving two-bladed fixed-pitch props; the "Drover 1F" offered variable-pitch props instead. The "Drover 2" enhanced the Drover 1F with double slotted flaps. In Flying Doctor service, the Drover accommodated two stretchers and two medical attendants; it could also be operated as an eight-seat airliner. 20 Drovers were built to end of production in 1953, with the type serving with Qantas and Trans-Australia Airlines -- it appears both had relationships with the Flying Doctor service, but details are unclear -- and operators in South Pacific islands. The last one built was converted for use as an agricultural aircraft.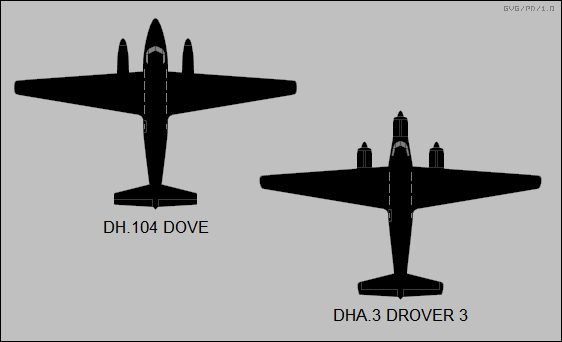 The six machines used by the Flying Doctor service were converted in 1960 to "Drover 3" configuration, with Avco Lycoming O-360-A1A flat-four air-cooled engines with 135 kW (295 HP) each, driving two-bladed variable-pitch propellers. Some were modified to "Drover 3a" configuration, featuring a tailplane with dihedral and wider span; and some to "Drover 3b" configuration, with increased MTO. A number of Drovers have survived as static displays.
BACK_TO_TOP
* The Dove having proven a success, in 1945 a team under de Havilland's W.A. Tamblin leveraged it into a four-engine derivative, the "DH.114" -- intended to replace the DH.86, which was more or less a four-engine Dragon Rapide. Lack of customer interest delayed serious work on the new machine until 1949; first flight of the DH.114 prototype, the aircraft having been named the "Heron", was on 10 May 1950, with Geoffrey Pike at the controls. The first production "Heron Mark 1" was delivered in 1952.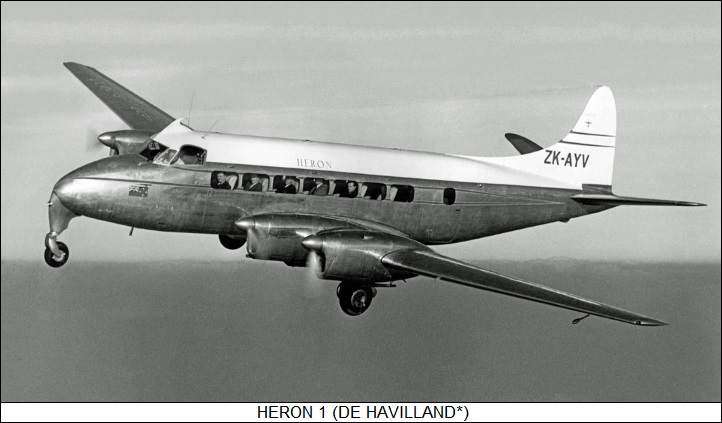 The Heron revealed its Dove ancestry and might be confused for it, at least from the side. However, it was substantially modified from the Dove:
Wingspan extended by 25% to 21.79 meters (71 feet 6 inches), plus tailplanes with dihedral, not flat as in the Dove. Control surface configuration remained the same.


Four Gipsy Queen 30 Mark 2 engines with 185 kW (250 HP) each, driving reversible two-bladed props.


Fuselage extended by 24%, using fuselage plugs fore and aft of the wing, adding 2.62 meters (8 feet 6 inches) to give a total length of 14.78 meters (48 feet six inches). Seating was increased to 14, or 17 in a high-density arrangement.


As mentioned above, a modified cockpit with greater headspace.


Surprisingly, a fixed tricycle undercarriage, the Heron being designed conservatively.
The seventh production Heron was completed as the prototype of the "Mark 2", with retractable landing gear, and speed improved by 32 KPH (20 MPH). First flight of the Mark 2 was on 14 December 1952.


   DE HAVILLAND HERON MARK 2:
   _____________________   _________________   _______________________
 
   spec                    metric              english
   _____________________   _________________   _______________________

   wingspan                21.79 meters        71 feet 6 inches
   wing area               46.36 sq_meters     499 sq_feet   
   length                  14.78 meters        48 feet 6 inches
   height                  4.75 meters         15 feet 7 inches

   empty weight            3,610 kilograms     7,960 pounds
   MTO weight              5,900 kilograms     13,000 pounds

   cruise speed            255 KPH             160 MPH / 140 KT
   service ceiling         5,640 meters        18,500 feet
   range                   1,295 kilometers    805 MI / 700 NMI
   _____________________   _________________   _______________________


The Mark 1 continued to be produced in parallel with the Mark 2. Heron Mark 1s were obtained by operators in the UK, Brazil, Indonesia, Japan, New Zealand, and Uruguay. The Mark 2 was popular as an executive / VIP aircraft, with aircraft in such configurations operated in the Belgian Congo, Saudi Arabia, and South Africa. Four were obtained by the RAF's Queen's Flight for use by the British royal family, with other military operators including the air forces of Ghana, Iraq, Jordan, Sri Lanka, and West Germany.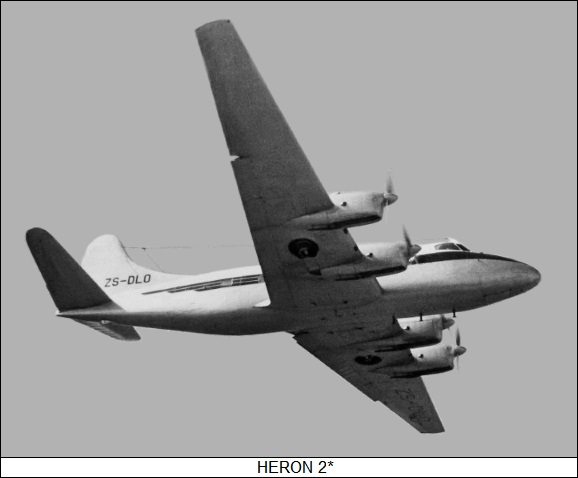 There were few changes in later Heron production, one being a wider rudder; fully feathering props were added on the "Mark 2C"; while the "Mark 2D" offered higher MTO. Total production quantities of the Heron were modest, with 148 built in all, 52 of them being Mark 1s.
There were a number of conversions of Herons:
Shin Meiwa of Japan kitted up five Heron Mark 1s with Continental IO-470D flat-six air-cooled engines providing 195 kW (260 HP) each. These machines were known as "Tawrons".


Connellan Airways of Alice Springs, Australia, came up with a Lycoming IO-540-G1A5 conversion for its fleet, which provided air services over Northern Australia. Riley Aeronautics also did a Lycoming conversion of the Heron as the "Riley Turbo Skyliner", with turbocharged IGO-540-B1A5 engines.


David Saunders of Saunders Aircraft Corporation of Montreal came up with the most ambitious conversion, the "ST-27", with assistance from Aviation Traders (Engineering) of the UK. The ST-27 featured a 3.16-meter (10 foot 4 inch) fuselage stretch, giving seating for 23 passengers; stronger wings; provision for weather radar; and, most significantly, the four Gipsy Queens swapped out for twin PWC PT6A turboprops. The ST-27 prototype made its first flight on 28 May 1969, being powered by PT6A-27 engines with 530 kW (730 SHP) each. A production prototype followed the next year, with production machines following, powered by PT6A-34 engines with 560 kW (750 SHP) each. There were 12 ST-27 conversions in all. A 13th conversion, originally designated the "ST-27B", added a wide range of refinements, with the plan being to put the ST-27B into production, of new airframes, as the "ST-28". However, Saunders ran into financial problems, and it didn't happen.
BACK_TO_TOP
* The Dove was not the only British light twin-piston airliner introduced in the immediate postwar period. After determining a need for such an aircraft, Percival, later Hunting, Aircraft designed the "P.48 Merganser", a five-seat, all-metal, high-wing aircraft with a conventional tail arrangement and tricycle landing gear, powered by twin Gipsy Queen 51 engines. The sole prototype performed its initial flight on 9 May 1947; however, de Havilland gave up on the Gipsy Queen 51, and Percival couldn't find a proper replacement. The Merganser was scrapped in 1948.
Percival engineers were not ready to give up, taking the same general configuration and scaling it up substantially, the resulting prototype of the "P.50 Prince 1" taking to the air on 13 May 1948. It looked very much like the Merganser, but was about two-thirds heavier, and powered by twin Alvis Leonides 501/4 nine-cylinder air-cooled radial engines with 390 kW (520 HP) each, driving three-bladed reversible de Havilland propellers. It was followed by the production "Prince 2", with minor changes such as a sloping, instead of flat, windshield, and a stronger wing spar.
The Prince was of all-metal construction, with conventional flight control surface layout, the one-piece flaps being split by the engine nacelle, the tailfin having a forward fin fillet; the bottom of the tailfin acted as a runway bumper. All landing gear retracted rearward, the nose gear having twin wheels, the main gear having single wheels and retracting up into the engine nacelles. Ski and float gear was on offer as well, though it is unclear if anyone ever bought them. There was a fore-&-aft opening double door on the rear left fuselage -- the forward door being wider than the rear, with a removeable center post in the middle of the doorway -- and two escape hatches on the roof, one behind the cockpit, one in the rear.
There were two aircrew, with eight passenger seats in two rows; a lavatory at the rear; and a baggage compartment at the extreme rear. Ten seats could be accommodated by deleting the lavatory, and the aircraft could also be configured for cargo hauling, with a load capacity of 800 kilograms (1,800 pounds). The Prince could be obtained in luxury executive aircraft configurations.
Three Prince 2s were obtained by the Royal Navy for land-based transport and communications, these machines being designated "P.66 Sea Prince C.1". Six "P.54 Survey Prince" machines, derived from the Prince 2, were built, featuring a long nose with a glazed front, plus fittings for cameras and other air survey gear.
The civil "P.50 Prince 3" featured uprated Alvis Leonides 502/4 engines with 410 kW (550 HP) each. A total of 12 was built, some of them being "Prince 3B" machines with a long nose, at least three of such being used by UK civil aviation authorities for airways navigation / landing aids calibration. Four comparable "P.57 Sea Prince C.2" transports were built for the Royal Navy, as well as 41 derived "P.57 Sea Prince T.1" machines anti-submarine warfare training, featuring twin-wheeled main gear and, at least for some of them, radar in a thimble nose radome. The Royal Navy Princes served into the 1970s.
Civil Princes flew with air operators in over a dozen countries. The Royal Australian Air Force and Thai military both flew the Prince. A total of 75 Princes was built in all. Sources mention a "Prince 4" and a "Prince 6", which it seems were updates of Princes to improved Alvis Leonides radials.
* The long-nose Prince 3B was leveraged into a variant for the RAF, the "P.66 Pembroke C.1", the major external difference being a longer wingspan, extended from 17.07 meters to 19.66 meters (56 feet to 64 feet 6 inches); it also had twin-wheel main gear. De-icing boots were standard, having been optional on the Prince.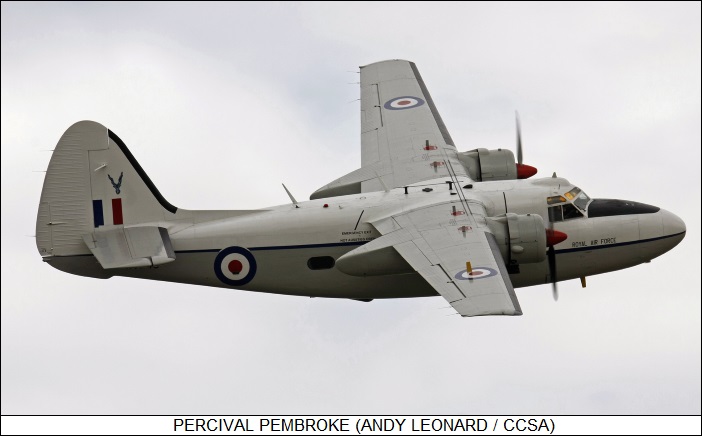 Initial flight of the prototype was on 21 November 1952, with the type going into service with the RAF in 1953, replacing the Avro Anson. The C.1 could be configured with eight backward-facing seats, which the military felt improved crash safety. It could also be used as a medical evacuation aircraft, with six litters, or cargo hauler; it could be fitted with dual controls for multi-engine training, or used as a flying classroom. The high wing and the twin-wheel landing gear made it suitable for operation off of rough airstrips.
Six were obtained by the RAF for photo-reconnaissance, being designated "Pembroke C.(PR)1", with two C.1s apparently converted to reconnaissance configuration as well. with cameras and saw use in the late stages of the Malayan insurgency, and in snooping flights, using long-range oblique cameras to take pictures across the borders of the Iron Curtain.


   PERCIVAL (HUNTING) PEMBROKE C.1:
   _____________________   _________________   _______________________
 
   spec                    metric              english
   _____________________   _________________   _______________________

   wingspan                19.66 meters        64 feet 6 inches
   wing area               37.16 sq_meters     400 sq_feet   
   length                  14.02 meters        46 feet
   height                  4.88 meters         16 feet

   empty weight            4,354 kilograms     9,600 pounds
   MTO weight              6,125 kilograms     13,500 pounds

   max speed               360 KPH             225 MPH / 195 KT
   service ceiling         6,705 meters        22,000 feet
   range                   1,850 kilometers    1,150 MI / 1,000 NMI
   _____________________   _________________   _______________________


RAF Pembrokes were given a service-life extension in the early 1970s, finally being completely retired in the late 1980s. Pembrokes were also obtained by a number of foreign air forces:
Sweden: The Swedish Flygvapnet obtained 16 aircraft, designated "Tp83" in Swedish service.


Germany: 34 "C.54" Pembrokes, which went to all three German armed services. The air force, the Luftwaffe, got 25, while army air, the Heersflieger, got three, and navy air, the Marineflieger, got six. Some of the German Pembrokes had glazed noses, some did not. The Marineflieger Pembrokes were used for search and rescue, as well as transport duties.


Belgium: 12 "C.51" Pembrokes, similar to the C.1 but with glazed noses, configured to be easily convertible between utility and reconnaissance roles.


Denmark: 6 "C.52/2" Pembrokes.


Finland: 2 "C.53" Pembrokes.


Sudan: 2 "C.55" Pembrokes.
A total of 128 Pembrokes was built in all, the last being rolled out in 1958. Small quantities of Pembrokes were obtained second-hand by the military flight services of other nations. A civil version of the Pembroke, the "Prince 5", later the "President", was built, but none were ever delivered to customers.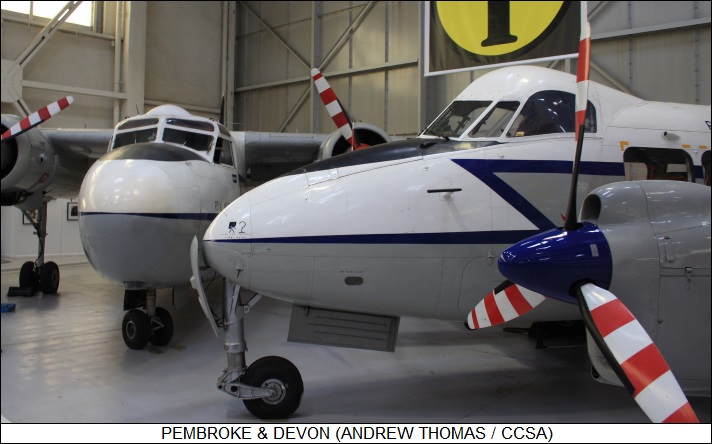 The Prince / Pembroke is an obscure aircraft, details being hard to find and not all that trustworthy. By all appearances, it was a reliable, workmanlike aircraft that had an honorable service life. A number of Sea Princes and Pembrokes survive, with at least one Pembroke in flight condition.
BACK_TO_TOP
* The Dove, as mentioned above, grew out of the Brabazon Committee's Type V requirement. Actually, this was split into two requirements, "VA" and "VB", with the Dove fulfilling the VB component. The VA component was for a slightly larger machine, resulting in the "Miles M.60 Marathon". It proved much less successful than the Dove.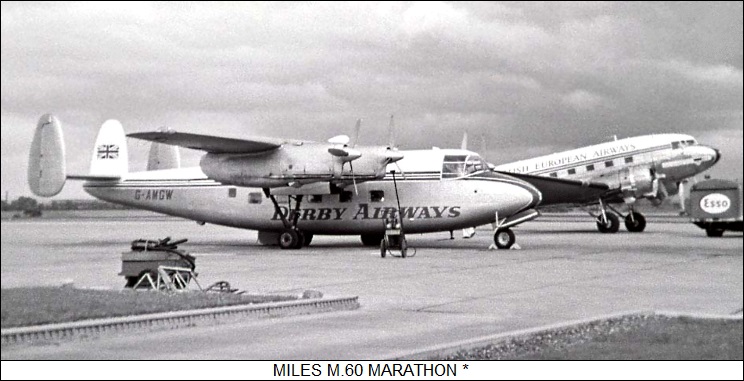 The Marathon was designed as a short-haul airliner with a capacity of 20 passengers, British Overseas Airlines Corporation (BOAC) and British European Airways (BEA) being the intended users. Initial flight of the first of three prototypes was on 19 May 1946, this machine being lost in a crash; that was an indication of things to come. Initial production deliveries were in 1950. Miles had gone broke in 1947, to be bought out by Handley Page, and so the aircraft was known by users as the "Handley Page Marathon".
The Marathon was a high-wing aircraft, with a triple-fin tail, featuring tricycle landing gear and powered by four Gipsy Queen 70 Mark 3 engines with 255 kW (340 HP) each. Span was 19.81 meters (65 feet), length was 15.93 meters (52 feet 3 inches), and empty weight was 5,200 kilograms (11,460 pounds). Neither BOAC nor BEA followed through on orders; on evaluation, BEA found the Marathon inferior to the elderly Dragon Rapide. It appears to have been underpowered and not very reliable.
40 production machines were built, a handful being sold to foreign airlines, 28 of them ending up as "T.11" navigation trainers by the RAF. It seems civil users often ended up acquiring the Heron as a replacement, while the T.11 trainers had a short service life. One was used as an engine testbed for the Armstrong-Siddeley Mamba turboprop, with twin Mambas replacing the four Gipsy Queens. Of the Brabazon machines, the only two that were clearly successful were the Viscount and the Dove -- and then not spectacularly so.
* As concerns copyrights and permissions for this document, all illustrations and images credited to me are public domain. I reserve all rights to my writings. However, if anyone does want to make use of my writings, just contact me, and we can chat about it. I'm lenient in giving permissions, usually on the basis of being properly credited.
* Sources include:
THE ENCYCLOPEDIA OF CIVIL AIRCRAFT, edited by David Donald, Thunder Bay Press, 1999.
The online Wikipedia was also consulted, particularly for the Prince / Pembroke; it's hard to find much of substance on that aircraft. The FLIGHT INTERNATIONAL website allows online search of its postwar issues, which helped scrounge up more details on that type, but it was still an uphill struggle.
* Revision history:

   v1.0.0 / 01 jan 15
   v1.0.1 / 01 dec 16 / Review & polish.

BACK_TO_TOP
---
---

---