---
---
The Ilyushin DB-3 / Il-4
v1.1.3 / 01 may 17 / greg goebel
* In the 1930s, the Soviet Union developed an advanced twin-engine medium bomber, the Ilyushin "DB-3", and put it into mass production. With the onset of World War II, the DB-3 would be developed into the improved "DB-3F" and the subsequent "Il-4", with thousands of these machines built and proving important weapons to the Soviet war effort. This document gives a history and description of the DB-3 / Il-4, as well as of the comparable but less successful Yermolaev "Yer-2" twin-engine bomber.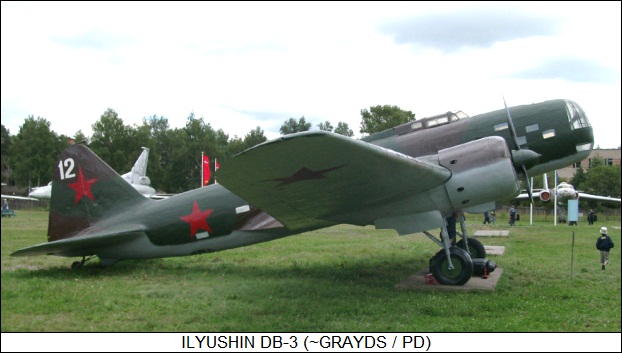 ---
[1] DB-3 ORIGINS
[2] DB-3 DESCRIBED / DB-3 VARIANTS
[3] DB-3F / IL-4 / IL-6
[4] FOOTNOTE: THE YERMOLAEV YER-2
[5] COMMENTS, SOURCES, & REVISION HISTORY
---
* Sergei Vladimirovich Ilyushin had been involved with aircraft from before World War I as a pilot, and after the war he moved up through the technical hierarchy of Soviet aviation industry. By the early 1930s, he had become head of the TsKB (Tsentralnoye Konstrucktorskoye Byuro / Central Design Bureau) office associated with TsAGI (Tsentralnoye Aero-Gidrodynamicheskiy Institute / Central Aero-Hydrodynamic Institute). TsAGI was a top-level experimental research group supporting the entire Soviet aircraft industry; although the relationship between TsAGI and TsKB is unclear, it seems that the TsKB was originally intended to provide "hardware" support for TsAGI's experimental work.
In the early 1930s, Soviet bomber technology was based on the heavy bombers developed by Andrei Tupolev, most prominently the four-engine TB-3 bomber -- an ugly crate by later standards, with an open cockpit, fixed landing gear, and sprawling thick wings, but advanced for its time. Ilyushin had ideas for a new twin-engine bomber that was much more aerodynamically refined, with a thin wing and retractable landing gear, and in late 1933 he was given authorization by the state to build a prototype.
The initial "TsKB-26" prototype was nothing more than a demonstrator, put together as fast as possible, featuring both metal and wood construction and parts from other aircraft. Initial flight of the TsKB-26 was in the summer of 1935, with TsKB test pilot Vladimir Kokkinaki at the controls. Despite the crude construction, the TsKB-26 was all that might have been hoped for, being strong, fast by the standards of the era, maneuverable, and easy to fly -- in particular, it had good single-engine-out handling. In fact, the TsKB-26 set a number of performance records in 1935 and 1936.
The TsKB-26 had seemed so promising from early in its flight trials that Ilyushin had been quickly authorized to build a more mature prototype, of similar configuration but longer and of all-metal construction. The "TsKB-30" was rolled out in March 1936 and was put through its paces by Kokkinaki. All going well with trials, in August 1936 the type was accepted for service by the VVS (Voyenno Vozdushniye Seely / Red Air Force) as the "Dalniy Bombardirovschik (Long-Range Bomber) 3 (DB-3)".
The DB-3 went into production at State Factory Number 39 in Moscow and State Factory Number 18 in Voronezh. By that time, Ilyushin's office had been spun off as his own OKB (Opytnoe Konstrucktorskoye Byuro / Experimental Design Bureau) at Factory Number 39, with the organization of course known as "OKB-39". The DB-3 entered VVS service in 1937. Continuous refinements were added in production, and the aircraft proved so satisfactory that in 1938 a third plant, Number 126 in Komsomolsk, was also put to work manufacturing it.
BACK_TO_TOP
* The DB-3 was a contemporary of the German Heinkel He 111 twin-engine bomber and was comparable to it in many ways, though a clearly different design. The DB-3 was a low-wing, all-metal aircraft with retractable landing gear in a tailwheel configuration. All landing gear had single wheels; the tailwheel was fixed, each main gear was mounted on twin oleos and retracted back into the engine nacelle, with the mainwheel left partly exposed when retracted.
The powerplants were originally M-85 radials -- license-built copies of the French Gnome-Rhone K14 Mistral Major, a 14-cylinder two-row air-cooled radial providing 595 kW (800 HP) continuous power at altitude -- driving three-blade fixed-pitch propellers. Later production used the M-86, which was similar but had greater take-off power, with this variant sometimes referred to as the "DB-3A"; and then the M-87A, with minor improvements over the M-86 and fitted with three-bladed VISh-3 variable-pitch props, this variant being sometimes referred to as the "DB-3B".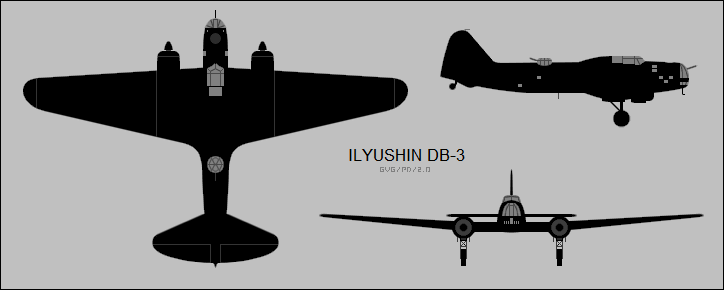 Bombs were typically carried in the bombbay, which could accommodate ten 100-kilogram (220-pound) bombs for a total warload of one tonne (1.1 tons). There were external bomb racks that could carry 500-kilogram (1,100-pound) or 1,000-kilogram (2,200-pound) bombs in an overload condition, for a maximum total bombload of 2,500 kilograms (5,510 pounds). Defensive armament consisted of three 7.62-millimeter (0.30-caliber) ShKAS machine guns, with one in the nose glazing; one in a dorsal turret; and one in a belly hatch. There were only three crew -- pilot, navigator / bombardier / front gunner, and rear gunner -- implying that the rear gunner had to jump from one gun position to the other in combat. In hindsight, the defensive armament seems light, but a handful of rifle-caliber guns were generally seen as adequate armament for a bomber in that era, and the Soviets liked to design their machine guns with unusually high rates of fire, increasing their effectiveness.


   ILYUSHIN DB-3:
   _____________________   _________________   _______________________
 
   spec                    metric              english
   _____________________   _________________   _______________________

   wingspan                21.44 meters        70 feet 4 inches
   wing area               65.6 sq_meters      706 sq_feet   
   length                  14.22 meters        46 feet 8 inches
   height                  4.19 meters         13 feet 9 inches

   empty weight            5,270 kilograms     11,620 pounds
   MTO weight              7,660 kilograms     16,890 pounds

   max speed at altitude   445 KPH             275 MPH / 240 KT
   service ceiling         9,700 meters        31,825 feet
   range                   3,800 kilometers    2,360 MI / 2,055 NMI
   _____________________   _________________   _______________________


The DB-3 was clearly a 1930s aircraft in appearance, in particular with a blunt nose configuration that somewhat ruined its otherwise clean lines. However, it was the equal of or superior to its contemporaries elsewhere, such as the He-111B, and there were few complaints from aircrew, who found its handling very friendly, with few unpleasant "funnies". It also had remarkable range, being capable of stowing a fuel load equal to a third of its maximum take-off weight. In 1938 and 1939 Kokkinaki piloted the modified TsKB-30 prototype, renamed the MOSKVA, on a series of flights to validate long-range operations, with one such exercise covering 8,000 kilometers (4,970 miles).
* While Soviet state factories churned out the DB-3 in volume, the Ilyushin OKB worked on variants. A torpedo bomber derivative, the "DB-3T", was introduced in 1937, with the "T" standing for "torpedonosyets (torpedo)". It was a minimum change from the DB-3 bomber, the most significant new feature being centerline shackles for carrying a single Type 45-36 torpedo, with a weight of 940 kilograms (2,070 pounds). The DB-3T could still carry bombload, and was also fitted for air-dropping naval mines. In addition, it could be used for long-range reconnaissance.
Soviet Naval Aviation was pleased to get the DB-3T, and in fact it was the service's first full-production torpedo bomber, being used as the basis for a new "Torpedo Aviation" arm of Naval Aviation. The only problem with it was that the DB-3F was strictly land-based, and so the Ilyushin OKB came up with a floatplane variant, the "DB-3TP" -- where "P" stood for "poplavkovyi (floatplane)" -- using floats borrowed from the older Tupolev TB-1P twin-engine torpedo bomber floatplane. Although the floats degraded performance, the DB-3TP retained the good handling qualities of the DB-3, and its performance was still better than available alternatives. However, nobody could figure out any convenient way to load munitions on the DB-3TP -- a special raft was built to help but it was clumsy -- and so the DB-3TP did not go into production.
There were a number of other minor variants and conversions:
Work was done in 1938 on a DB-3 with more powerful armament of two ShVAK 20-millimeter cannon along with two ShKAS 7.62-millimeter machine guns for use as a long-range bomber escort fighter, with this machine designated "TsKB-54". Two machines were converted to this configuration. During that era, several nations tinkered with the idea of using up-armed bombers as escorts, and never found the idea very workable. The Soviets were no exception, the TsKB-54 proving slower than a stock DB-3, and the TsKB-54 never came close to going into production. One picture that survives of the TsKB-54 shows it fitted with ski landing gear; it is unclear if DB-3s could be fitted with similar ski gear, but it was a common Soviet practice for flight operations in winter conditions. A similar concept for a heavily-armed DB-3 interceptor was investigated in 1941, but it appears no prototype was flown.


Another set of experiments performed in 1938 evaluated the DB-3's utility as a dive bomber, using aircraft with airframe reinforcements, modified props, and a dive-bombing sight. Trials showed the DB-3 could be used effectively as a dive-bomber, but the conclusion was that other aircraft would be better suited to the role.


A number of DB-3s were converted to passenger transports in the prewar period, with these aircraft having up to 11 passenger seats and sometimes additional fuel tanks. DB-3s were also used during the war as glider tugs and for carriage of payloads strapped under the bombbay, with this configuration designated "DB-3K". Payloads were carried on special pallets with hookup fittings, the primary use apparently being to ferry heavy equipment to partisan groups behind German lines. At least in some cases, aerodynamic fairings were built to enclose the payloads.

One of the most interesting payloads was a neatly streamlined passenger module designated the "D-21", with a capacity of 10 equipped troops and rear doors to allow parajumping. There were several D-20 configurations; although it is said that the DB-3K with the D-20 module was used to deliver reconnaissance and sabotage teams behind German lines, it is unclear how how widely they were used, and in fact the combat career of the DB-3K cargo-hauler is obscure.


The DB-3 was used for test and trials of new airfoils and other kit. There were experiments with radio-controlled drone DB-3s, with DB-3s also used as drone controllers.
BACK_TO_TOP
* Although the DB-3 had received incremental changes in the course of production, in 1938 the Ilyushin OKB began work on a major revision of the design, with the new variant, the "DB-3F", performing its first flight on 21 May 1939, of course with Kokkinaki at the controls. The "F" stood for "Forsirrovaniy (Forced)" -- the precise meaning of which is hard to translate, but which seemed to imply "major revision". Production had been authorized even before the first flight of the prototype -- a major war was clearly brewing, with Soviet dictator Josef Stalin desperate to modernize his forces -- and the DB-3F was in military service before the year was out.
The most obvious change was the fit of a new "cigar" nose to replace the DB-3's blunt nose, not merely improving aerodynamics but also improving the navigator / bombardier / front gunner's field of view for both bombing and defensive fire. The DB-3F also had a new, bigger wing; new landing gear mechanisms that were simpler and more effective; a new fuel system that was similarly simplified and improved; and improved defensive gun mounts. There were many structural changes to enhance manufacturability and airframe strength.
The initial DB-3F prototype was fitted with M-87B radials providing 710 kW (980 HP), but production machines were fitted with M-88 radials, with a two-speed supercharger and capable of providing 750 kW (1,000 HP) at cruise altitude -- incidentally, late production of the baseline DB-3 also featured the M-88. The M-88 engines were troublesome and were later replaced, after some effort, by the M-88B model, with the same power ratings but improved reliability. Propellers with greater diameter were fitted, and though the DB-3F was noticeably heavier than the DB-3, thanks to the bigger wing and uprated engines the DB-3F's performance was generally better than that of the DB-3 in all respects.
* The DB-3 and DB-3F were the mainstays of VVS Long-Range Aviation when Nazi Germany invaded the USSR on 22 June 1941. While the Germans destroyed vast numbers of Soviet aircraft on the ground in the first days of the war in the East, most of the DB-3/3Fs were based in the rear and escaped destruction. Unfortunately, during the desperate first months of the fighting the DB-3/3Fs were thrown into combat in a frantic, poorly organized fashion, often without fighter escort, and suffered heavily.
The Soviets did use the long-range bombers to perform attacks on Berlin on 7 August 1941. The raids were performed at night and were inaccurate, being intended mainly as expressions of defiance and for propaganda purposes. As the pace of the invasion slowed and Soviet resistance became more coherent the long-range bomber attacks became more effective, with attacks on the Ploesti oil fields in Rumania helping crimp the Reich's supply of oil.
Production of the DB-3F was interrupted by the Nazi invasion and the subsequent transfers of as much Soviet industry from the path of the invaders to the Urals and beyond. However, the DB-3F was regarded as important to the war effort and priority was given to getting back into production, and by early 1942 production was picking up steam again.
As always the case, there were production changes in the aircraft over time. In the desperate days of the fall of 1941, wooden assemblies were incorporated into the bomber to spare the use of aircraft aluminum alloy, with wooden construction used for the navigator's cabin, cockpit floor, and tail fairing. Armor protection was added; the old dorsal turret with the 7.62-millimeter ShKAS machine gun was replaced by UTK-1 turret with a more formidable 12.7-millimeter (0.50-caliber) UBT machine gun, and a fourth crewman was added to operate the belly gun.
With the increase in kit, of course the DB-3F became heavier and its center of gravity shifted towards the rear, but a modified wing of mixed wood-aluminum alloy construction was then fitted to compensate; tests showed the new wing further improved the machine's already good handling. Additional fuel tanks came along with the new wing; two external tanks could be carried on the belly racks, further stretching range. Despite the greater weight, thanks to new split flaps with greater area, the revised bomber had no additional trouble getting off the runway; and thanks to new props of greater diameter, performance was not significantly impaired.
With these changes implemented, the updated DB-3F was given the designation of "Il-4", of course in honor of Sergei Ilyushin. While the USSR's socialist system had traditionally attempted to downplay the contributions of individuals to emphasize the work of the collective, with the Soviet nation fighting for survival and then victory, Stalin decided that maybe there was some place for glorifying the individual after all.


   ILYUSHIN IL-4:
   _____________________   _________________   _______________________
 
   spec                    metric              english
   _____________________   _________________   _______________________

   wingspan                21.44 meters        70 feet 4 inches
   wing area               66.7 sq_meters      718 sq_feet   
   length                  14.8 meters         48 feet 7 inches
   height                  4.1 meters          13 feet 6 inches

   empty weight            5,800 kilograms     12,790 pounds
   MTO weight              11,300 kilograms    24,910 pounds

   max speed at altitude   430 KPH             270 MPH / 230 KT
   service ceiling         9,700 meters        31,825 feet
   range                   3,800 kilometers    2,360 MI / 2,055 NMI
   _____________________   _________________   _______________________


There were further improvements in the Il-4 after it went into service, such as fit of AG-2 anti-aircraft grenades -- which were dispensed to pop out a little parachute and then explode into fragments, discouraging pursuit -- and underwing racks to carry unguided rockets for ground attack. One late enhancement was outer wing panels with greater sweepback to compensate for further changes in center of gravity, as more armor and other weight was added to the rear of the bomber in the course of production.
The Il-4 was used as a torpedo bomber by Naval Aviation, of course being designated "Il-4T". Since hauling a torpedo prevented the carriage of the twin belly fuel tanks, photos show torpedo-carrying Il-4s with a single external fuel tank directly behind the torpedo, positioned below the dorsal turret. The Red Navy actually wanted to obtain floatplane Il-4Ts, but a float system was never developed for the type.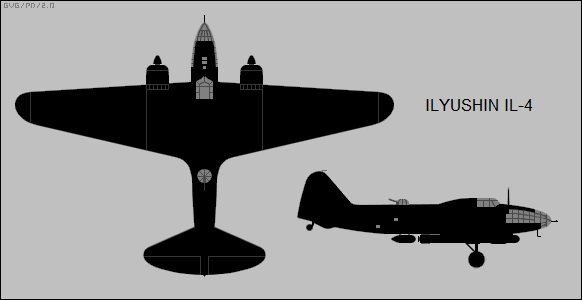 As with the DB-3, the Il-4 was used to haul cargoes on platforms attached under the fuselage, with a set of personnel modules developed as well. Il-4s were also used as glider tugs; a few were fitted with auxiliary tanks to haul fuel to frontline airfields, and some were kitted up for reconnaissance missions.
* Although the Il-4 was a somewhat obsolescent aircraft by mid-war, the basic soundness of the design and work performed to keep it current kept it in production and first-line service to the end of the conflict. Its performance was mediocre, but it was rugged and its range was excellent. A total of 1,528 DB-3 and 5,256 DB-3F / Il-4 bombers was built, with the final 160 Il-4s completed after the fighting was over. In the postwar period, the Il-4 was assigned the NATO reporting name of "Bob".
There were some other dead-end branches of the Il-4 family that remain more or less mysterious:
From 1939 the Ilyushin OKB developed a variant with a wooden fuselage designated the "DB-3FD", the idea obviously being to reduce dependence on strategic materials. One prototype and five production machines were built, but the program was abandoned in the spring of 1942, there being no dire crunch on aircraft metals.


There were multiple experiments with different engine fits, including Klimov V-105 water-cooled vee-12 engines, but they came to nothing. There were also experiments with radio-controlled Il-4s and Il-4 drone controllers.


One Il-4 was built as the "Il-4TK" with a pressurized cabin and turbocharged engines for high-altitude operations; it had a rounded, glassed-in nose and no separate canopy, and also lacked defensive armament. Flight tests were performed in 1943 and there was thought of going to production, but the decision was finally made that the need for such an aircraft didn't justify the effort, and the work was abandoned.


Work was performed on a heavily revised derivative of the DB-3F in 1941, with two prototypes built of the "DB-4". It had some promise but resources were lacking for production, particularly since the Ilyushin OKB was so heavily committed to the DB-3F and other important aircraft at the time.


There was also work on a less radical derivative of the Il-4 designated the "Il-6" with Charomskiy ACh-30B diesel inline engines, a reprofiled wing, enhanced defensive armament, and many other changes. Two were flown from 1943 but the project was "snakebitten", suffering from many technical difficulties, and was abandoned.
Late in the war the Ilyushin OKB conducted development work on a next-generation bomber, the "Il-14", which was to be powered by four Mikulin AM-43 water-cooled vee-12 engines. The engines were to be mounted two to a nacelle, one in tractor configuration in the front, the other in pusher configuration in the rear. A prototype was being built at the end of the war, when the aircraft was judged unneeded and so the program was halted. The Il-14 designation was then "recycled" for the Il-14 airliner, which did go into production.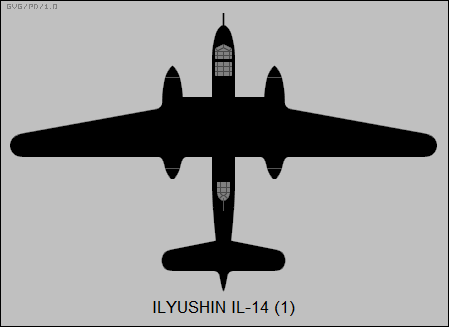 In the postwar period, the Ilyushin OKB also came up with a number of concepts for a strategic heavy bomber, the "Il-26", roughly in a class with the US Convair B-36 bomber. The studies went nowhere, the authorities deciding to assign strategic bomber development to the Tupolev and Myasishschev OKBs instead.
BACK_TO_TOP
* The USSR fielded another bomber roughly in the class of the Il-4 during the war, the Yermolaev "Yer-2", though it was nowhere near as successful and remains obscure. It had begun life in the early 1930s as a high-speed 12-seat passenger liner, the "Stal-7", designed by an Italian-born Soviet aircraft designer named Roberto Bartini.
A single Stal-7 prototype was built, performing its first flight in 1937. It was a interesting aircraft, a streamlined all-metal twin-prop airliner, with an inverted gull wing and inline engines. Some sources hint that the passenger accommodations were distinctly uncomfortable, since the wing spars for the inverted vee wing passed through the passenger compartment at mid-height! Soviet bureaucracy was known for its occasional lunacies, but that still seems a bit of a stretch. In any case, performance was good and range was outstanding,
Design work was proceeding in parallel on a bomber along similar lines. Unfortunately, the Stal-7 crashed during preparations for a round-the-world flight, leading to Bartini's arrest by the NKVD, the Soviet state security service in early 1938, on charges of treason -- Stalin's USSR had an unpleasantly broad definition of the term. Although engineers were often sentenced to death for their failures, the sentence was often if not always commuted, the scheme mostly being intended to intimidate; Bartini would eventually be rehabilitated, but in the meantime the work on the Stal-7 bomber derivative fell under the responsibility of his deputy, Vladimir Yermolaev.
Two prototypes of the bomber were built, being given the designation of "DB-240", with the initial flight of the first prototype on 14 May 1940 and N. Shebanov at the controls. Performance was generally under spec and the state evaluation judged the defensive armament too weak, but it had good range and bomb load. On the basis that it could be improved, it was authorized for production, with State Factory Number 18 in Voronezh to do the work alongside manufacture of DB-3Fs. Initial deliveries of the "Yer-2", as the production aircraft was designated, to the VVS were in April 1941.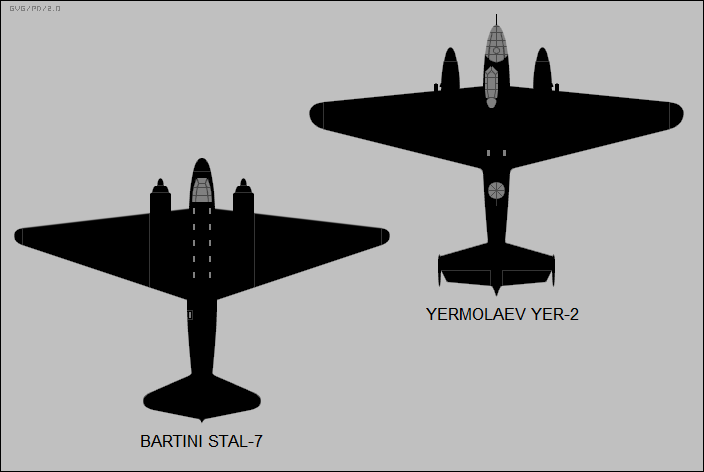 * The Yer-2 was of metal construction. It had the inverted gull wings of the Stal-7, but featured a twin-fin tail instead of the single-fin tail of the airliner. The Yer-2 had a glazed nose with something of the appearance of that of a late-model He-111, but it also had high-perched canopy for the pilot, offset to the left; it gave the aircraft a somewhat awkward appearance.
The Yer-2 was powered by twin M-105 watercooled inline vee engines with 785 kW (1,050 HP) driving three-bladed props. The bomber had been designed to use the more powerful M-106 engine, but the M-106 ran into development problems and the M-105 was used instead -- that was why performance didn't meet spec. The landing gear arrangement was much like of the Il-4, in a taildragger configuration with all gear assemblies featuring single wheels. The main gear was mounted on twin oleos, retracting straight back into the engine nacelles; the tailwheel was also retractable.
Defensive armament mirrored the Il-4 as well, consisting of a 7.62-millimeter ShKAS machine gun on a flexible mount in the nose; another ShKAS gun on a flexible mount firing out the belly; and a 12.7-millimeter UBT gun in a dorsal turret. There were four crew from the outset. Up to two tonnes (4,400 pounds) of bombs could be carried in the bombbay, and two 500-kilogram (1,100-pound) bombs could be carried on external racks.
The exact number of Yer-2s built is unclear, it seems on the order of a hundred. Yer-2s performed attacks in the second half of 1941 to help blunt the German invasion, suffering badly in the process. Production halted as Soviet industry was evacuated in front of the invaders and was not immediately restarted, as it was for the DB-3F / Il-4. By midsummer 1942, surviving Yer-2s had been withdrawn from first-line service.
* However, development of an improved Yer-2 variant for a possible manufacturing restart continued, with construction in 1943 of a prototype with more powerful AM-37 inline engines and better defensive armament. That configuration was not put into production, but a 1943 prototype with further updates and ACh-30B inline diesel engines was authorized for manufacture. The ACh-30B diesels offered 1,120 kW (1,500 HP) take-off power each; they were heavier than gasoline engines but offered better specific fuel consumption by a good margin. Coupled with additional fuel tankage, the diesel Yer-2 had roughly a third more range than the M-105 Yer-2.
The diesel Yer-2 went into production at State Factory Number 39 in Irkutsk in late 1943, with deliveries to the VVS from early 1944. The diesel Yer-2 also featured a wing and tailplane with bigger area, more fuel capacity, and heavier defensive armament. One particular innovation was the addition of a copilot and the fit of a proper side-by-side canopy, instead of the lopsided offset canopy.


   YERMOLAEV YER-2 (ACH-30B):
   _____________________   _________________   _______________________
 
   spec                    metric              english
   _____________________   _________________   _______________________

   wingspan                23 meters           75 feet 6 inches
   wing area               73.1 sq_meters      786.8 sq_feet   
   length                  16.4 meters         53 feet 10 inches

   empty weight            10,380 kilograms    22,795 pounds
   MTO weight              14,250 kilograms    31,415 pounds

   max speed at altitude   420 KPH             260 MPH / 225 KT
   service ceiling         7,200 meters        23,600 feet
   range                   5,500 kilometers    3,417 MI / 2,970 NMI
   _____________________   _________________   _______________________


How many diesel Yer-2s were built is, again, unclear, it seems about 300. After the war, some survivors were converted to an unarmed "osoboyo naznacheriya (special use)" transport configuration designated the "Yer-2ON". They were used for liaison duties. Sources mention a "Yer-4" with improved ACh-30BF diesels and even a handful of machines with auxiliary pulsejet engines, but details are lacking.
BACK_TO_TOP
* As concerns copyrights and permissions for this document, all illustrations and images credited to me are public domain. I reserve all rights to my writings. However, if anyone does want to make use of my writings, just contact me, and we can chat about it. I'm lenient in giving permissions, usually on the basis of being properly credited.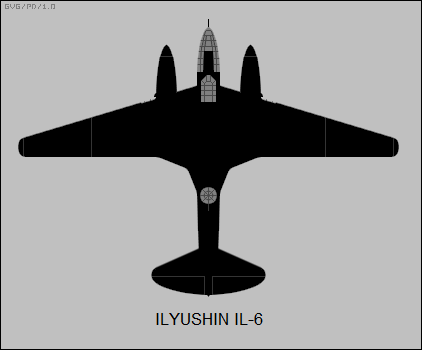 * Most older Western sources on Soviet aircraft are untrustworthy. The only source I could find on the Il-4 that seemed particularly credible for the first revision of this document was SOVIET COMBAT AIRCRAFT OF THE SECOND WORLD WAR by Yefim Gordon & Dmitri Khazanov, Midland Publishing, 1999. I was able to get more materials from the book OKB ILYUSHIN by Yefim Gordon, Dmitry Komissarov, and Sergey Kommissarov, Midland Publishing, 2004.
* Revision history:

   v1.0.0 / 01 sep 09 
   v1.1.0 / 01 aug 11 / Expansion on minor subvariants.
   v1.1.1 / 01 jul 13 / review & polish.
   v1.1.2 / 01 jun 15 / review & polish.
   v1.1.3 / 01 may 17 / review & polish.

BACK_TO_TOP
---
---

---