---
---
Ilyushin Jetliners
v1.1.3 / 01 mar 18 / greg goebel
* In the 1960s, the Soviet Union introduced the nation's first commercial jetliner for transcontinental flights, the Ilyushin "Il-62". It was followed by the first Soviet wide-body jetliner, the Ilyushin "Il-86", and its much improved derivative, the "Il-96". This document provides a history and description of the Il-62, Il-86, and Il-96.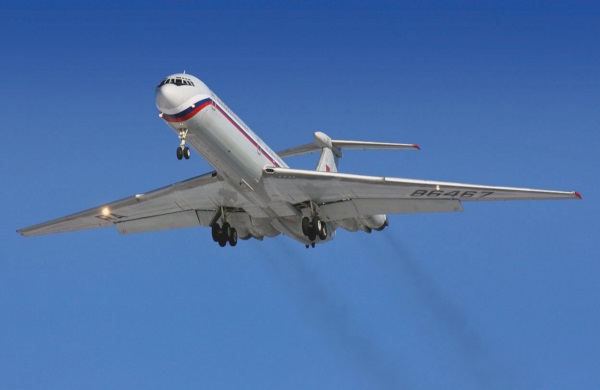 ---
[1] ILYUSHIN IL-62
[2] ILYUSHIN IL-86 & IL-87
[3] ILYUSHIN IL-96
[4] COMMENTS, SOURCES, & REVISION HISTORY
---
* The Soviet Union was somewhat a laggard in the development of a long-range jetliner. Through the 1950s, the state airline Aeroflot was focused on short-haul air transport, flying relatively small airliners over a network of local airports that couldn't handle larger or more sophisticated aircraft. There were international airports in Moscow and a few other large cities that could deal with large jetliners, but into the 1960s the only relatively modern long-range airliner of Soviet construction that could fly from them was the Tupolev Tu-114, a swept-wing machine with four turboprops derived from the Tu-95 "Bear" bomber and patrol aircraft.
At the time of the first flight of the Tu-114 in 1957, however, Soviet authorities knew that a more adequate jetliner was needed, and in 1958 the Ilyushin experimental design bureau (OKB in its Russian acronym) was tasked to develop it. The design spec required an aircraft that could carry 150 passengers at 900 KPH (560 MPH) over 8,000 kilometers (4,970 miles), fitted with navigation and blind landing aids to permit operations in poor weather. Ilyushin engineers considered a number of configurations for the new jetliner, finally settling on a machine with a low-mounted swept wing, tee tail, and four engines clustered in pairs alongside the rear fuselage. The configuration was very similar to that of the British Vickers VC-10, which was in parallel development at the time; the first VC-10 wouldn't perform its initial flight until 1962, and so it is unclear if the similarity was coincidental or not.
Development of the "Il-62", as the aircraft was designated, proceeded while the Kuznetsov engine OKB worked on the appropriate powerplant, which emerged as the NK-8 two-shaft turbofan, a low-bypass unit similar to the Rolls-Royce Conway. The first of two Il-62 prototypes was publicly unveiled to the world in September 1962 -- with Soviet Premier Nikita Khrushchev inspecting the sleek new machine in front of the cameramen -- and performed its initial flight in January 1963.
Since the NK-8 wasn't ready at the time, the prototype was powered by Lyulka AL-7 turbojets, with 74 kN (7,500 kgp / 16,535 lbf) thrust each. That was about three-quarters of the design thrust of the NK-8, leaving the prototype underpowered, and since the Lyulka engines were thirsty, the prototype couldn't come close to meeting range spec. The prototype had "cheek" fairings under the cockpit that wouldn't be found on production machines; some sources claim they were for aircrew escape chutes, others for water tanks to help maintain flight trim.
Another prototype and three pre-production machines, ultimately with the NK-8 turbofans, were flown. Although the trials were protracted, production was authorized, with the machines being built at a plant in Kazan in what is now Tatarstan. The Il-62 was introduced to national service in March 1967, with international flights -- originally on the Moscow-to-Montreal route -- beginning in September 1967. The Il-62 was given the relatively flattering NATO reporting name of "Classic".
* The Il-62 was an attractive aircraft and state of the art for its era, with large forged structures, machined skin panels, and metal sandwich with plastic foam for the floors. The low-mounted swept wing had a 35 degree sweep at quarter chord and a dogtooth on the leading edge a third of the span from the root; although the prototype had wing fences, the production machine didn't. The wing had four spars out to the ailerons and two spars beyond that.
There were large two-section electrically-actuated flaps inboard -- the inner section was originally double slotted, but was then changed to single slotted, matching the single slotted outer section -- and three-section manually operated ailerons outboard, with two-section hydraulically-actuated spoilers ahead of the outer flap to act as airbrakes or lift dumpers. The swept tee tail featured a manually-operated rudder, plus manually operated elevators on the tailplane, which could be hydraulically adjusted for flight trimming. There were tabs on the ailerons, rudder, and elevators.
The Il-62 was powered by four NK-8-4 turbofans with about a 1:1 bypass ratio, and 99.0 kN (10,100 kgp / 22,273 lbf) pounds thrust each; the outer engines had thrust reversers, a new feature for Soviet aircraft at that time. The rear positioning of the engines helped reduce cabin noise, though it led to more weight than a wing-mounted configuration, and also complicated center-of-gravity considerations. Engine bleed air was driven to the leading edges of the flight surfaces for de-icing. There was a TA-6 auxiliary power unit (APU) in the tailcone for ground power and engine starting. There were three fuel tanks in the wing center section and two in each wing outer panel, providing a total fuel capacity of 100,000 liters (26,385 US gallons). The two-wheel steerable nose gear retracted backwards, while the four-wheel (2x2 arrangement) main gear retracted from the wings toward the fuselage. While parked, a strut with twin wheels could be extended under the tail to keep the aircraft from tipping back while being loaded.
Cockpit crew was five -- pilot and copilot, flight engineer, navigator, and radio operator. Maximum passenger capacity was 186 passengers in a two-class / two-cabin arrangement, in a six-abreast configuration, though other configurations were possible, such as an 86-passenger luxury configuration. There were passenger doors on the left side of the aircraft forward of the wings, with two service doors roughly matching them on the right side of the aircraft, and two emergency exits above each wing. There were five toilets, a galley & wardrobe amidships, and three baggage holds under the floor.
* Even as the Il-62 was going into service, the wheels were turning on an improved version, using the advanced Soloviev D-30KU turbofan, with a bypass ratio of 2.4:1; take-off thrust of 107.9 kN (11,000 kgp / 24,250 lbf); and most importantly about 11% better specific fuel consumption. Although the new engines were slightly heavier, the need to carry less fuel more than compensated. The new engines were housed in redesigned engine nacelles with improved streamlining; thrust reversers were still only fitted to the outer engines, but they were of the clamshell type, not the internal cascade scheme as used on the original Il-62.
The improved variant was designated the "Il-62M", with the initial flight of the first machine in 1970 and introduction to service in 1974. The Il-62M also featured a fuel tank in the tailfin, an improved cockpit layout, and modernized avionics -- it was capable of autonomous flight from after take-off to before landing. The cargo and baggage system was rethought, using a containerized system that supported mechanized loading and unloading. Improvements were made in passenger emergency escape arrangements. External dimensions remained the same.


   ILYUSHIN IL-62M:
   _____________________   _________________   _______________________
 
   spec                    metric              english
   _____________________   _________________   _______________________

   wingspan                43.2 meters         141 feet 9 inches
   wing area               279.55 sq_meters    3,009 sq_feet   
   length                  53.12 meters        174 feet 4 inches
   height                  12.35 meters        40 feet 6 inches

   empty weight            71,600 kilograms    157,520 pounds
   MTO weight              165,000 kilograms   363,720 pounds

   max cruise speed        920 KPH             570 MPH / 495 KT
   cruise altitude         11,000 meters       36,100 feet
   range                   10,000 kilometers   6,210 MI / 5,400 NMI
   _____________________   _________________   _______________________


Work on a high-density configuration of the Il-62 for medium-haul operations was conducted from 1969 to 1978, with the ultimate design designated the "Il-62MK". The design was externally almost identical to the Il-62M, but featured a reinforced airframe; stronger and modernized landing gear; and an interesting scheme in which the spoilers, which had been enlarged, deployed automatically when the extended landing gear touched down and came under load. The passenger arrangements were substantially modified, giving a maximum passenger capacity of 196, adding overhead baggage compartments, a wider aisle, and more comfortable seating arrangements. The number of emergency exits was increased to deal with the greater passenger capacity. Some sources claim the Il-62MK went into production, but in fact it was canceled, even though it was ready for production; one suspects optimistic public announcements spread the mistaken notion that it actually went into service.
* A total of 244 Il-62s of all makes was built at Kazan up to end of production in 1990. Along with Aeroflot, the Il-62 served with most of the national airlines of Warsaw Pact countries, as well as Cuba, North Korea, Vietnam, China, and several African states. A number of Il-62s were given VIP or "Salon" accommodations for use by senior Soviet officials, and one was still in use at last notice as a flying command post for EMERCOM, the Russian emergency response agency. A few were used for avionics tests as well. From 1985, surviving Il-62s were fitted with a inertial navigation system (INS), and the engine pods were rebuilt to lower noise and emissions. The Il-62 serves on in a lingering fashion, some having been converted to a "combi" freight-passenger configuration, with a large cargo door on the left front fuselage.
BACK_TO_TOP
* Although the Il-62 brought the USSR up to rough parity with the West in long-haul jetliners, of course the West continued to advance, and by the late 1960s the emergence of "wide-body" airliners, in particular the Boeing 747, made the Soviets sit up and take notice. In 1970, the Ilyushin design bureau was tasked to develop such an aircraft.
Initial configurations for the "Il-86", as it was designated, were clear follow-ons to the Il-62, with the four engines along the tail and a tee tail. Feedback on this concept was not entirely positive, and after considerable debate a much revised design that owed little or nothing to Il-62 emerged: basically the same broad configuration as the classic Boeing 707, with swept flight surfaces, a low-mounted swept wing, and four engines in individual pods under the wings. It had a wide-body fuselage with two-aisle nine-abreast seating and a maximum passenger capacity of 350. The internal arrangement featured twin decks, with the passengers entering the lower deck from ground level via hinge-down doors with integral steps, and then walking up stairs to the passenger deck. This arrangement allowed the Il-86 to operate with a minimum of ground support equipment.
Initial flight of the first of two prototypes was on 22 December 1976, with OKB chief test pilot A. Kuznetsov at the controls. Trials proving the aircraft generally acceptable, the Il-86 was approved for manufacture, with the first production aircraft performing its initial flight on 25 October 1977. While the first prototype was built at Khodinka, production took place at a factory in Voronezh, though major subassemblies were built at other plants. Aeroflot accepted the type into service in September 1979, with initial international service -- to East Berlin -- on 3 July 1981. The Il-86 was assigned the NATO reporting name of "Camber".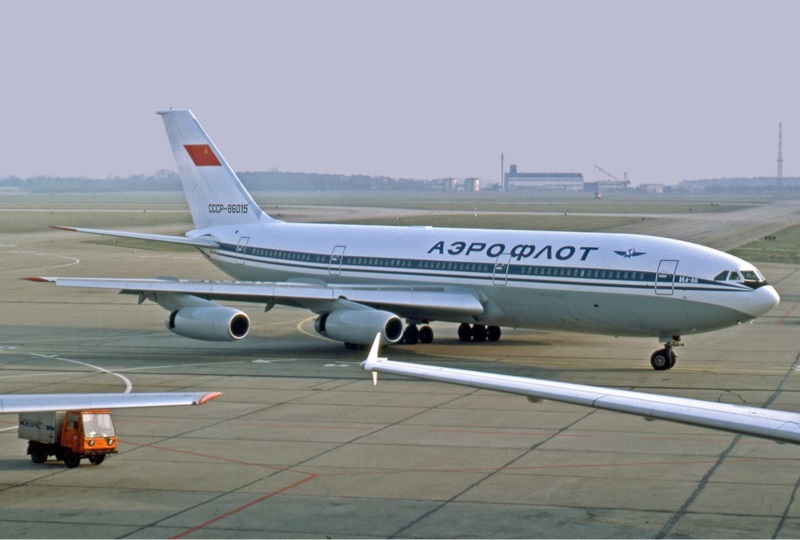 * The Il-86 was of generally conventional aircraft aluminum construction, the only significant exception being floors made of carbon composite and metal honeycomb. The wing had a sweepback of 35 degrees at the quarter-chord line, and was fitted with full-span leading-edge slats; double slotted flaps; conventional ailerons; and spoilers / airbrakes in front of the flaps. There were wing fences on top of the wings where the engine pods were mounted. The tailplane was adjustable for trimming and featured four powered elevators, while the tailfin had a twin powered rudder. Leading-edge de-icing was performed by a pulsed electrothermal system.
The powerplants were Kuznetsov NK-86 low-bypass turbofans providing 127.5 kN (13,000 kgp / 28,660 lbf) thrust each. The NK-86 was a derivative of the NK-8-4 that was fitted to the initial Il-62. There was an APU in the Il-86's tailcone. The nose gear featured two wheels while there were three main gear assembles, each with four wheels in a 2x2 arrangement; the outboard main gear assemblies retracted in from the wings as per the Il-62, while the centerline main gear assembly retracted forward.


   ILYUSHIN IL-86:
   _____________________   _________________   _______________________
 
   spec                    metric              english
   _____________________   _________________   _______________________

   wingspan                48.06 meters        157 feet 8 inches
   wing area               320 sq_meters       3,444 sq_feet   
   length                  59.54 meters        195 feet 4 inches
   height                  15.81 meters        51 feet 10 inches

   MTO weight              206,000 kilograms   454,150 pounds

   max cruise speed        950 KPH             590 MPH / 515 KT
   cruise altitude         11,000 meters       36,100 feet
   range                   3,600 kilometers    2,235 MI / 1,945 NMI
   _____________________   _________________   _______________________


The Il-86 was an attractive aircraft, but even a modestly trained observer would have looked at the engine nacelles of its low-bypass turbofans and seen it as behind the times. The engines had poorer fuel economy than contemporary Western turbofans; more significantly, they were noisy, leading to restrictions on the operation of the Il-86 in the West. Only 103 Il-86s were built, and none were exported. The Il-86 does appear to have been a robust piece of gear, as was often true of the better Soviet equipment, and it could operate off of relatively short runways with a minimum of ground support equipment.
An estimated four Il-86s were acquired by the Russian military in the form of a flying command post, with the designation "Il-80" -- erroneously reported in some sources as "Il-87". They featured a prominent antenna fairing on top of the fuselage behind the cockpit, a pod under each wing near the fuselage with a ram-air turbine generator, and a facility for spooling out a trailing very-low-frequency (VLF) antenna. There were no passenger windows. The Il-80 was given the quirky NATO reporting name of "Maxdome", presumably for the big fairing. A second-generation Il-80 with updated systems was introduced in late 2015.
BACK_TO_TOP
* Obviously, the solution to the Il-86's lack of range was to obtain a respectable high-bypass turbofan. During the 1980s the Soloviev PS-90A engine emerged to fill that need, and an Il-86 was refitted with the PS-90A for trials. However, the belief at the Ilyushin OKB -- actually by that time under the direction of Genrikh V. Novozhilov, Ilyushin having died in 1977 -- was that it wouldn't be enough to just refit the Il-86 with PS-90As, that the design needed to be generally rethought.
The first of two flight prototypes -- in addition to two static-test prototypes -- of the rethought Il-86, designated "Il-96", performed its initial flight on 29 September 1988. Although the Il-96 looked much like the Il-86 at a casual glance, effectively the only common elements were parts of the fuselage and the landing gear. Along with the PS-90A turbofans -- each providing 156.9 kN (16,000 kgp / 35,275 lbf) thrust, with a bypass ratio of 4.8, full authority digital controls, and fuel efficiency comparable to Western counterparts -- the wing was entirely redesigned, with substantially larger span and distinctive winglets replacing the wing fences.
Sweepback was reduced to 30 degrees. The wing control surface arrangement was completely redesigned, following in the lines of Western practice, with full-span powered leading edge slats; double slotted flaps inboard; a small all-speed aileron outboard of the inner flaps; twin single slotted flaps beyond the aileron; and a low-speed aileron near the tip. There were airbrakes inboard on top of the wing inboard and airbrakes / roll spoilers outboard. The wing incorporated significant composite assemblies, as did the entirely revised tail. The aircraft featured a triple-redundant fly-by-wire flight control system, and almost double the fuel capacity of the Il-86 -- mostly thanks to fuel tanks in the updated wing. Of course range was greatly increased. As with the Il-86, there was an APU in the tailcone for engine starting and ground power.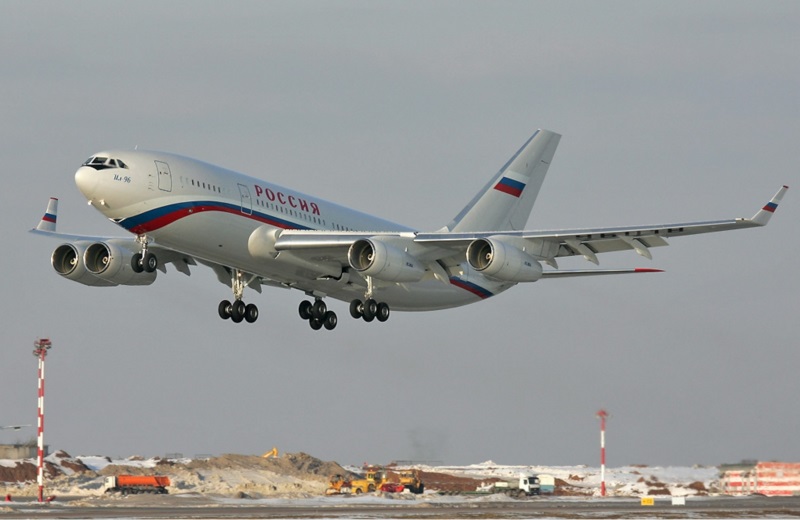 The interior was also completely rearranged, with the boarding scheme altered so that the Il-96 was generally dependent on stairways and loading bridges. Flight crew consisted of pilot, copilot, and flight engineer, with an optional navigator for long-range journeys; cabin staff was 10 or 12. Passenger accommodations in the initial version were for 300 in an all-economy configuration, and so it was designated the "Il-96-300".


   ILYUSHIN IL-96-300:
   _____________________   _________________   _______________________
 
   spec                    metric              english
   _____________________   _________________   _______________________

   wingspan                60.11 meters        197 feet 2 inches
   wing area               350 sq_meters       3,767 sq_feet   
   length                  55.34 meters        167 feet 1 inches
   height                  17.55 meters        57 feet 7 inches

   empty weight            117,000 kilograms   257,950 pounds
   MTO weight              240,000 kilograms   529,100 pounds
   take-off runway length  3,150 meters        10,335 feet
   landing runway length   2,100 meters        6,890 feet

   max cruise speed        870 KPH             540 MPH / 470 KT
   cruise altitude         11,000 meters       36,100 feet
   range*                  9,000 kilometers    5,590 MI / 4,860 NMI
   _____________________   _________________   _______________________

   * Range is with 30,000 kilogram (66,000 pound) load.


A two-class arrangement gave a capacity of 235 passengers, including 22 first-class passengers in a six-abreast configuration and 211 economy passengers in a nine-abreast configuration; there were two aisles in both the first-class and economy sections. Other configurations were possible. There were eight lavatories, plus a galley in the lower deck. There were three passenger doors on the left side of the aircraft, with the passenger doors mirrored by emergency exits on the right side.
* Unfortunately, although the Il-96 was a credible effort at catching up with the West, its introduction took place during the collapse of the Soviet Union, resulting in a chaotic new Russian state where getting anything done was completely problematic for about a decade. Only about thirty production Il-96-300s have been built, that quantity including one-off special versions and prototypes for new variants. Two were built as "Air Force 1" VIP transports for the Russian president and designated "Il-96-300PU", these machines eventually being fitted with defensive countermeasures systems. Work was also done on a freighter version of the Il-96-300 and an "Il-96-300V" jetliner with range extended by 2,220 kilometers (1,380 miles).
A Westernized variant, the "Il-96M", was developed as well, powered by Pratt & Whitney PW2337 high-bypass turbofans and featured Rockwell-Collins avionics. It was stretched to 63.94 meters (209 feet 9 inches) to give a maximum passenger load of 350. A single prototype, rebuilt from one of the Il-96-300 prototypes, performed its initial flight on 6 April 1993; a single production machine was rolled out in 1997. The Ilyushin organization then offered an "Il-96-400" that was much the same, but had Russian avionics and PS90A-1 turbofans. Several have been ordered.
A prototype of a derivative freighter version, the "Il-96T", performed its initial flight on 16 May 1997. However, there was no customer interest in the Il-96M/T and the program was abandoned in 2001. An "Il-96-400T" was offered instead, with the Il-96T prototype rebuilt with uprated PS-90A1 engines and to feature Russian avionics, and there were a small number of sales to Russian freight company Polet. In 2015, the Russian Air Force ordered the conversion of two of the Il-96-400T machines as inflight refueling tankers, fitted with UPAZ hose-drogue refueling units. These machines will be designated "Il-96-400TZ".
BACK_TO_TOP
* As concerns copyrights and permissions for this document, all illustrations and images credited to me are public domain. I reserve all rights to my writings. However, if anyone does want to make use of my writings, just contact me, and we can chat about it. I'm lenient in giving permissions, usually on the basis of being properly credited.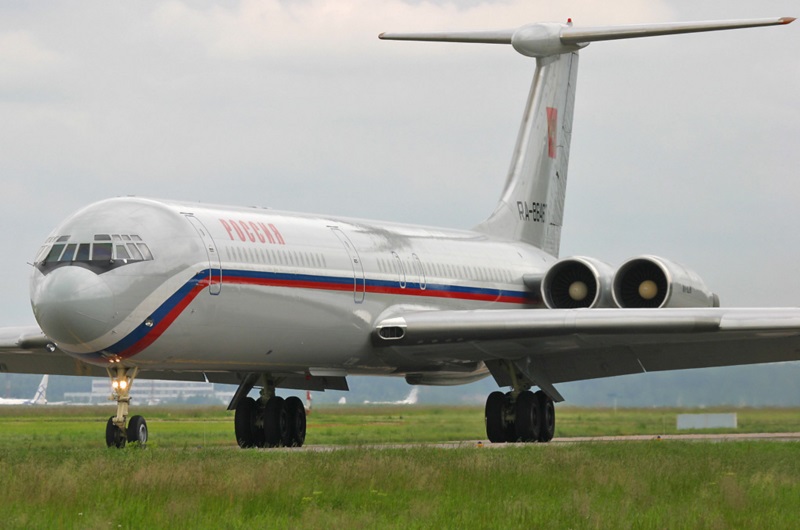 * Sources:
THE ENCYCLOPEDIA OF CIVIL AIRCRAFT by David Donald, Thunder Bay Press, 1999.


MODERN COMMERCIAL AIRCRAFT, edited by Guenter Endres, William Green, Gordon Swanborough, & John Mowinksi, Salamander Books, 2003.


OKB ILYUSHIN by Yefim Gordon, Dmitriy Komissarov, & Sergey Kommissarov, Midland Publishing, 2004.
Several editions of JANE'S ALL THE WORLD'S AIRCRAFT were consulted as well.
* Revision history:

   v1.0.0 / 01 aug 08
   v1.0.1 / 01 jul 10 / Review & polish.
   v1.1.0 / 01 jun 12 / Corrections, such as Il-62MK actually not built,
                        Il-87 is actually Il-80, and so on.
   v1.1.1 / 01 may 14 / Tanker Il-96.
   v1.1.2 / 01 apr 16 / Review & polish.
   v1.1.3 / 01 mar 18 / Review & polish.

BACK_TO_TOP
---
---

---