---
---
The Kamov Ka-50 & Ka-60
v1.0.1 / 01 aug 16 / greg goebel
* In the 1980s the Soviet Kamov design bureau, well-known for its coaxial-rotor naval helicopters, began development of a single-seat coaxial-rotor helicopter gunship -- which emerged as the "Ka-50". It was only built in trial quantities, but it led to a two-seat derivative, the "Ka-52", which is now in service.
In the 1990s, the Kamov organization then introduced a military utility helicopter of more conventional main-tail rotor configuration, the "Ka-60"; a civil version, the "Ka-62", was offered for sale as well. This document provides a history and description of the Kamov Ka-50 and Ka-60 helicopter families.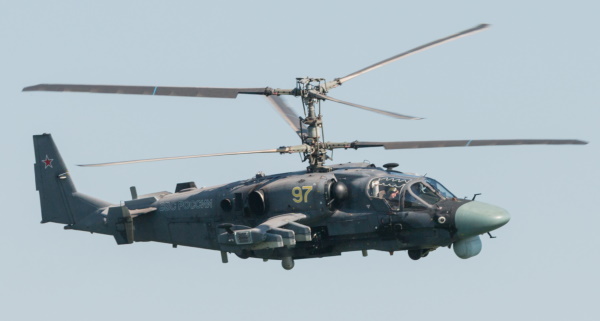 ---
[1] KA-50 ORIGINS
[2] KA-50 DESCRIBED
[3] KA-50N (KA-50SH) / KA-52 ALLIGATOR
[4] KAMOV KA-60 KASATKA / KA-62
[5] COMMENTS, SOURCES, & REVISION HISTORY
---
* In the mid-1960s, the Kamov helicopter experimental design bureau (OKB in its Russian acronym) had designed a gunship version of the Ka-25 coaxial-rotor naval helicopter, the "Ka-25F" -- but it was rejected, the authorities selecting the Mil Mi-24 "Hind" gunship for production instead.
Although the Mi-24 gunship proved a great success in service with the Red Army and Soviet allies, it wasn't long after its introduction that the brass began to wonder if it was really the right tool for the job. The Mi-24 was a large machine, capable in principle of carrying a squad of infantry that could provide a ground combat capability to back up the machine's air combat capability. It didn't work out that way: it rarely carried infantry except in a pinch, and its large size cut into performance.
In 1972, the US began the "Advanced Attack Helicopter" program, which would ultimately result in the AH-64 Apache helicopter gunship. The Soviets felt obligated to respond in kind, and so in 1976 the authorities initiated work on their own advanced attack helicopter, focused on the anti-armor mission. Mil and Kamov, the two Soviet helicopter design bureaus, both submitted proposals. The Mil proposal would emerge as the "Mi-28 Havoc", which is discussed elsewhere; the Kamov proposal was the "V-80", to be designed by a team under Sergei Mikhelev. Two prototypes of each were ordered in 1980. The initial V-80 prototype, built at the Kamov plant in Moscow, performed its initial flight on 17 June 1982, with Nikolai Bezdetnov at the control. The second performed its first flight in August 1983.
The first V-80 prototype was lost in a crash on 3 April 1985, pilot Yevgeny Laryushkin being killed. The V-80 featured the coaxial rotor system traditionally associated with Kamov helicopters; investigation showed that the rotor blades had collided with each other in the course of maneuvers, with the spacing between the rotor systems increased as a result. A third prototype followed before the end of 1985. Initial evaluation was complete by the summer of 1986, with the V-80 being favored over the Mi-28. There was room for improvement, with the appropriate recommendations made, and the V-80 was ordered into production in late 1987, to be made at the state plant in Arseneyev. The Mi-28 still being seen as promising, its development was continued.
Two more V-80 helicopters were built, the fifth machine being close to expected production configuration. Further trials were performed into 1990 with the four surviving prototypes, an initial batch of production machines being ordered in that year, being given the service designation of "Ka-50". Production was to be at the Progress Aircraft Plant in Arseneyev. The Ka-50 was authorized for fielding with the Russian Army in 1995; however, by that time it was apparent the collapse of the Soviet Union had largely sidelined the program.
BACK_TO_TOP
* The Kamov OKB had been considering gunship designs leading up to the Ka-50, early concepts not featuring Kamov's traditional coaxial rotor configuration. The first, the "V-50", was a tandem-rotor machine, something like a scaled-down version of the US Chinook helicopter with tandem stepped cockpits; like the Mi-24, it could carry a squad of troops. That going nowhere, the OKB then came up with the "V-100", which was a smaller machine that featured wings, with a rotor at each wingtip and a pusher prop, permitting very high speeds for a rotorcraft.
The V-100 was perceived as too daring, and so with the V-80 / Ka-50, the Kamov OKB reverted to the coaxial rotor configuration. Although traditionally gunship helicopters have a pilot and gunner, the Kamov OKB believed that improved cockpit automation could reduce the crew to one -- strike fighters generally only had a single crewman, why not helicopter gunships? Fake rear windows were painted on some of the prototypes to mislead Western intelligence into thinking it was a two-seater.
An exact description of the configuration of the Ka-50 is troublesome, since equipment fit tended to vary during its development: a general description may not be entirely accurate for any particular example. In any case, the Ka-50 was powered by twin Klimov TV3-117MVA turboshafts providing 1,640 kW (2,200 SHP) each take-off power; they were fitted with inlet protectors to shield against ingestion of dust and other debris, and exhaust baffles to reduce infrared signature. Self-sealing fuel tanks were fitted in the central fuselage. Each of the co-axial rotor assemblies had three rotor blades.
The tailfin featured a prominent forward fin fillet, while the tailplane was positioned well forward on the tailboom, with endplate fins near the tips; there had been a lot of fiddling with tail configurations during development. The Ka-50 had retractable tricycle landing gear, the nose gear with twin wheels, the main gear with single wheels -- all gear assemblies retracting backwards, the wheels left exposed after retraction.
Gun armament consisted of a Gryazev 2A42 30-millimeter cannon -- too big to be sensibly mounted in an undernose turret, instead being fitted to the right side of the V-80 in a mount that permitted limited traverse. Ammunition store was 460 rounds, with the pilot being able to select high explosive / incendiary, fragmentation, or armor-piercing rounds as needed.
Up to two tonnes (2.2 tons) of external stores could be carried on stub wings with four stores pylons. The Ka-50's primary anti-armor weapon was the Tula Vikhr ("Vortex" / "Whirlwind") missile, a laser beam rider with a maximum range of about 8 kilometers (5 miles), enough to provide standoff from air defenses of ground forces. Twelve Vikhrs could be carried; the missile had a powerful anti-armor / fragmentation warhead with both impact and proximity fuzes, and was capable of being used against helicopters as well as ground vehicles.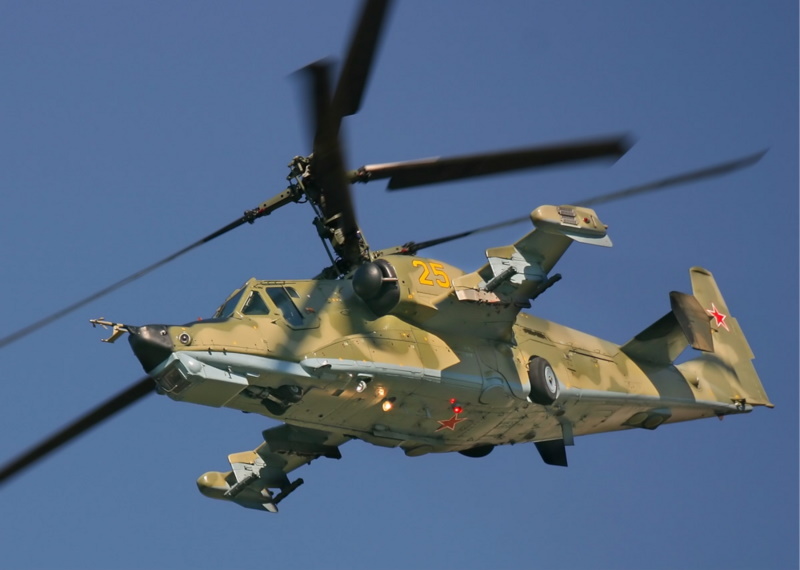 Of course, the Ka-50 would also be able to carry stores such as unguided rocket pods, cluster or unitary bombs, gun pods, or external fuel tanks, all four pylons being "wet". Photos often showed Ka-50s with large rectangular box packs on underwing pylons, these items being used for hauling crew gear or other kit, including flight test avionics. The R-73 heat-seeking air-to-air missile (AAM) and Kh-25ML laser-guided air-to-surface missile were also claimed as stores, though it is unclear if they were actually qualified.
Standard avionics included radios, identification friend or foe (IFF) transceiver, and navigation aids -- including a Doppler altimeter system, with the antenna under the tailboom. There was an air data boom on the nose, and a rear-view mirror above the cockpit. Targeting was to be performed by the Shkval-V (Squall) automatic TV / laser sighting system, similar to the targeting system fitted to the Sukhoi Su-25T close-support aircraft, working along with a Rubicon sighting and navigation system; the pilot had a helmet-mounted sight. The Ka-50 carried threat warning receivers, and was fitted with chaff-flare dispensers, mounted on a pod on each wingtip.
The cockpit dashboard was mostly analog, though it did have a head-up display (HUD). The pilot got in and out of the helicopter via a forward-hinged door on the left side of the cockpit; there was no matching door on the right, but there was a hatch on top for emergency escape. The pilot sat on an NPP Zvezda K-37-800 ejection seat, with the rotors blown off before ejection.


   KAMOV KA-50:
   _____________________   _________________   _______________________
 
   spec                    metric              english
   _____________________   _________________   _______________________

   rotor diameter          14.5 meters         45 feet 7 inches
   footprint length        16 meters           52 feet 6 inches
   height                  4.93 meters         16 feet 2 inches

   empty weight            7,800 kilograms     17,195 pounds
   max loaded weight       10,800 kilograms    23,810 pounds

   maximum speed           300 KPH             185 MPH / 160 KT
   service ceiling         5,500 meters        18,000 feet
   hover ceiling (*)       4,000 meters        13,125 feet
   range                   540 kilometers      335 MI / 290 NMI
   _____________________   _________________   _______________________

   (*) hover ceiling out of ground effect.

The V-80 was designed with survivability in mind. The coaxial rotor system eliminated the tail rotor, reducing vulnerability to ground fire, while the V-80's twin turboshaft engines were spaced onto opposite sites of the upper fuselage, meaning the two would not be so easily disabled by a single shot. The rotorcraft could keep on flying on a single engine, and its transmission could operate for a half hour or more even if it lost all lubrication. The V-80 featured redundant systems, with duplicated systems separated as far from each other as possible. The cockpit and critical systems were protected by 300 kilograms (660 pounds) of armor; the cockpit windows were made of armor glass. The rotor blades could shrug off hits from smaller cannon projectiles. Its landing gear could soak up much of the shock of a low-altitude crash. The Ka-50 was designed to be rugged and easy to maintain under austere conditions, featuring a large number of service panels.
BACK_TO_TOP
* The first photos of the Ka-50 were released in 1989; the type was formally announced in 1992, with prototypes appearing in foreign airshows. The second prototype appeared at the Farnborough Air Show that year; it had a werewolf painted on the tail, with the Ka-50 accordingly acquiring the nickname of "Werewolf". The fifth prototype was painted black and used in a movie, similarly generating the nickname of "Black Shark (Chernaya Akula)", which became the more or less official name -- though NATO assigned the Ka-50 the somewhat disparaging codename of "Hokum". However, due to the disorganization of Russia following the collapse of the USSR, the Ka-50 didn't reach operational service.
The initial version of the Ka-50 was effectively a day-only / clear weather machine, the intent being to then enhance its night / all weather combat capability, to produce a "Ka-50N" -- "N" for "Nochoy / Night. Work was done from early in the program to evaluate low light level TV (LLTV) and forward-looking infrared (FLIR) imaging systems, but they simply couldn't be made to work right, with social chaos bringing development to a crawl. In the mid-1990s, work was done to evaluate FLIR sensors from Thompson-CSF of France, but that was seen as only an interim step.
By late in the decade, the Urals Optico-Mechanical Plant (UOMZ in the Russian acronym) of Yekaterinburg had developed a series of workable imaging / targeting turrets -- "gyrostabilized optronics systems", or "GOES" in the Russian acronym. From 1997, a Ka-50 was evaluated with a nose-mounted GOES turret designated the "Samshit-50", which featured an LLTV, FLIR, laser rangefinder / target designator, and Vikhr laser guidance system. This demonstrator was eventually fitted with a mast-mounted Phazotron-NIIR Arbalet air defense radar and a full "glass cockpit", with three large color flat-panel displays. A second demonstrator was kitted up, featuring a second, smaller GOES turret for navigation in the nose forward of the targeting turret. The Ka-50N demonstrators with the ball sensor system were also known as "Ka-50Sh", with "Sh" standing for "Shar (Sphere)".
Ironically, the emphasis on night attack capability effectively doomed the Ka-50N, since the two-seat Mi-28 was a better platform for that mission. Several more Ka-50s were completed after the turn of the century, it appears mostly for trials and evaluations. They were the last Ka-50s built. Although Ka-50s were employed in field evaluations, it is not clear that they ever saw any actual combat operations. Indeed, it seems the entire production was used for evaluation, with configurations as mentioned varying to some greater or lesser degree from machine to machine, and often from time to time on the same machine. One was apparently used in trials as a demonstrator for high-speed compound rotorcraft, with a turbojet engine under each wing and a streamlined nose.
* However, the Ka-50 program was not a dead end. The machine was seen as the basis of a battlefield surveillance and targeting helicopter with radar and imaging gear, featuring a new forward fuselage to provide side-by-side seating for pilot, on the left, and systems operator, on the right; the side panels on each side hinged up for access. The two-seater was designated the "Ka-52 Alligator". It featured a Samshit-E turret above and behind the cockpit; it retained the side-mounted cannon but had six stores pylons instead of four. The Ka-52 had a glass cockpit with four flat-panel displays; the systems operator also had a magnifying optical periscope, with its objective in a moveable ball under the right side of the cockpit.
Empty weight grew thanks to the two-seat cockpit, and so performance with TV3-117VMA engines suffered accordingly. To reduce weight, the ammunition supply was cut back to 240 rounds, and armor protection was apparently cut back as well. Uprated TV3-117VMA-SB3 engines with 1,840 kW (2,465 SHP) were to be fitted to production machines.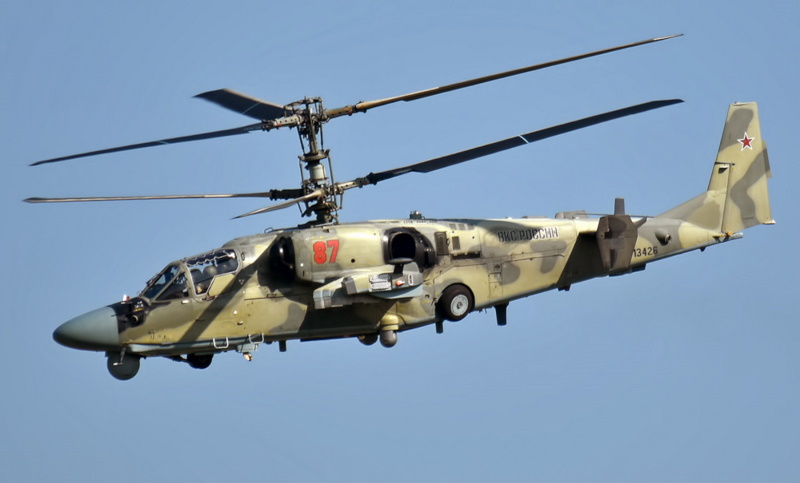 Fabrication of the first Ka-52 airframe began in the mid-1990s, with initial flight of the prototype -- converted from a Ka-50 -- on 25 June 1997, Aleksandr Simonov being at the controls. Serial production actually didn't start until 2008; the type entered operational service in 2011, with a fleet of 140 Ka-52s planned. The type was seen in action in Syria in 2016, as an element of the Russian intervention on behalf of the Syrian government.
A navalized version, the "Ka-52K Katran", is in the works for Russian Naval Aviation, these rotorcraft to be operated off the MISTRAL-class amphibious assault ships being obtained by Russia from France. The Ka-52K will feature a sensor turret under the nose, corrosion protection, folding rotor blades, folding wings, immersion suits and related kit for the crew, and a fire-control radar capable of targeting antiship missiles.
* In the late 1990s, the Kamov organization collaborated with Israel Aerospace Industries (IAI) to develop a two-seat version of the Ka-50 for a Turkish requirement, this configuration featuring tandem instead of side-by-side seating. It was designated the "Ka-50-2 Erdogan", the name meaning "born warrior" in Turkish -- but the Turks ultimately went with a locally-built version of the AgustaWestland A129 Mangusta.
After being scrubbed from the competition, the Ka-50-2 was then rebuilt into a Ka-52 demonstrator for a South Korean competition, with side-by-side seating and dual GOES turrets, one in the nose and a smaller one under the cockpit. That didn't go anywhere, either, for some time, but Egypt finally ordered roughly 50 of them in 2015. The Egyptians are also planning to obtain two MISTRAL-class assault ships, and would like to obtain 16 Ka-52Ks for each.
BACK_TO_TOP
* In 1997, the Kamov organization unveiled the "Ka-60 Kasatka (Orca / Killer Whale)" military utility helicopter to the world. It was a departure from traditional Kamov helicopter designs, featuring a main / tail rotor configuration, the tail rotor being of "fenestron" or "fan-in-tail" configuration, as often used in Airbus helicopters. The Ka-60 featured a high degree of composite assemblies and has reverse tricycle landing gear, all gear being retractable -- the main gear tucking into the fuselage, the tail gear retracting forward. Inflatable flotation packs could be fitted for emergency deployment on water.
The main rotor had four blades, made of carbon-reinforced Kevlar, having swept-back tips; they could resist hits by projectiles of up to 23 millimeter. The tail rotor had eleven blades of similar construction. The Ka-60 was powered by two NPO Saturn RKBM RD-600V turboshafts with a takeoff power of 970 kW (1,300 SHP). The transmission system could resist 12.7-millimeter projectile hits, and the gearbox could run dry long enough to get the rotorcraft back home. Fuel tanks were filled with polyurethane foam to reduce the risk of explosion. An Ivchenko A1-9V auxiliary power unit (APU) provided starting and ground power. Systems were redundant to provide reliability.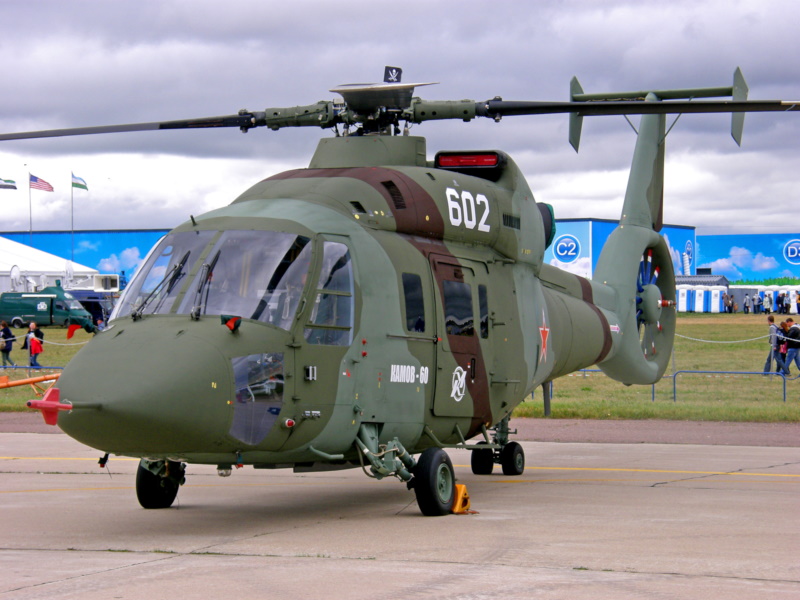 The Ka-60 was painted with an infrared absorbent coating and had a low infrared exhaust signature to reduce vulnerability to heat-seeking missiles. Defensive countermeasures included a Pastel radar warning receiver and an Otklik laser warner. Two offensive stores could be carried on a boom installed through the rear of the cabin, stores including seven-round unguided rocket pods or two machine-gun pods, of 7.62-millimeter or 12.7-millimeter caliber. The Ka-60 was fitted with an Arbalet millimeter-wave radar for navigation and targeting.


   KAMOV KA-60:
   _____________________   _________________   _______________________
 
   spec                    metric              english
   _____________________   _________________   _______________________

   main rotor diameter     13.5 meters         44 feet 4 inches
   footprint length        15.6 meters         51 feet 2 inches
   height                  4.6 meters          15 feet 1 inches

   empty weight            4,500 kilograms     10,000 pounds
   max loaded weight       6,500 kilograms     14,330 pounds

   maximum speed           300 KPH             185 MPH / 160 KT
   service ceiling         5,150 meters        16,900 feet
   hover ceiling (*)       2,100 meters        6,890 feet
   range                   615 kilometers      380 MI / 330 NMI
   _____________________   _________________   _______________________

   (*) hover ceiling out of ground effect.

There were two crew, pilot on the left, copilot on the right, with copilot doubling as a gunner. The rotorcraft could haul 16 equipped troops. In a medical evacuation role, the helicopter could carry three medical crew and six litters patients. The cabin was heated and air-conditioned. External loads of up to 2,750 kilograms (6,065 pounds) could be lifted.
Along with the baseline utility version, several other variants have been proposed:

   ____________________________________________

   Ka-60U     dual-control trainer
   Ka-60K     naval surface warfare variant
   Ka-60R     battlefield observation variant
   Ka-62      civil version
   ____________________________________________


The Ka-62 was to have a five-blade rotor, with an option for Western avionics, and was offered in various configurations. So far, only about a dozen Ka-60 prototype / evaluation items have been built, though the Russian government has ordered a hundred production machines, with a sales deals in the works for foreign governments. Given the long delay in the program, such hopes should be taken with a grain of salt.
BACK_TO_TOP
* In 2008, the Kamov organization presented models of new concept rotorcraft being considered for development, the "Ka-90" and "Ka-92". The Ka-90 was the more radical concept, a high-speed streamlined two-seat machine with a two-bladed rotor that folded back once in flight. No real specifics were given, and there's no reason to think it ever amounted to much more than an amusement.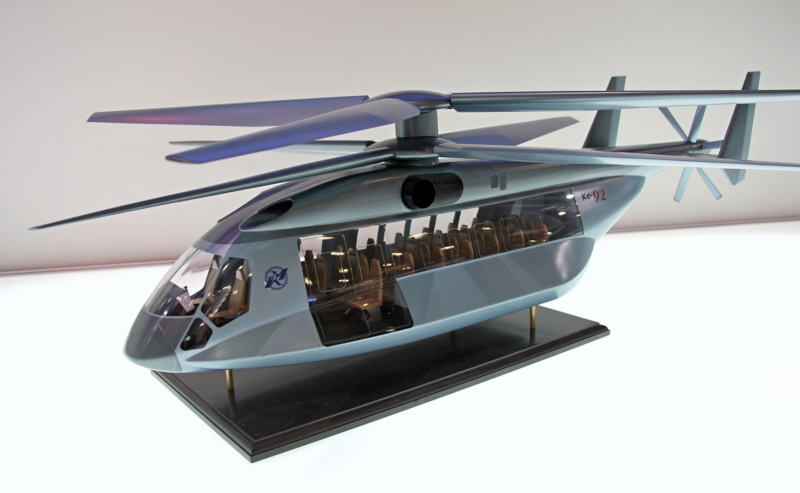 The Ka-92 was much more credible, a fast compound transport rotorcraft with rigid coaxial rotors, pusher contraprops, and twin tailfins -- clearly an evolution of traditional Kamov design concepts. It would be powered by twin Klimov VK-3000 turboshafts with 2,390 kW (3,200 HP) each, and be able to carry 30 passengers.


   KAMOV KA-92:
   _____________________   _________________   _______________________
 
   spec                    metric              english
   _____________________   _________________   _______________________

   rotor diameter          15.62 meters        51 feet 3 inches
   fuselage length         16.66 meters        54 feet 7 inches
   height                  4.15 meters         13 feet 7 inches
   empty weight            8,950 kilograms     19,735 pounds
   max loaded weight       19,000 kilograms    41,895 pounds

   maximum speed           570 KPH             355 MPH / 305 KT
   service ceiling         6,200 meters        20,350 feet
   range                   1,400 kilometers    870 MI / 755 NMI
   _____________________   _________________   _______________________


The coaxial configuration is well suited to a compound helicopter. One of the problems with a conventional helicopter in terms of high speed, even if driven by horizontal engines, is that the rotor is moving forward on one side of the machine and backward on the other, resulting in asymmetric lift that tends to flip the rotorcraft over -- a problem that is at least minimized with the coaxial configuration. There doesn't seem to be any commitment to development of the Ka-92 at present. Certainly the power transmission system, ganging twin turboshafts to jointly drive contrarotating rotors and pusher props, would be fascinatingly complex.
* As concerns copyrights and permissions for this document, all illustrations and images credited to me are public domain. I reserve all rights to my writings. However, if anyone does want to make use of my writings, just contact me, and we can chat about it. I'm lenient in giving permissions, usually on the basis of being properly credited.
* Sources include:
"Ka-50/52 -- Kamov's Hokum Family" by Thomas Andrews, INTERNATIONAL AIR POWER REVIEW, Summer 2002 / Volume 5.
Volumes of JANE'S ALL THE WORLD'S AIRCRAFT and the online Wikipedia were also consulted.
* Revision history:

   v1.0.0 / 01 sep 14
   v1.0.1 / 01 aug 16 / Minor updates, review & polish.

BACK_TO_TOP
---
---

---