---
---
The Vickers (BAC) VC10
v2.1.0 / 01 jan 16 / greg goebel
* In the postwar period, the British developed a set of three jet "V-bombers" -- the Vickers Valiant, the Handley-Page Victor, and the Avro Vulcan -- to provide a strategic nuclear strike capability. The Valiant also led, indirectly, to an elegant four-jet airliner, the Vickers "VC10". Although it was only a modest success commercially, the VC10 became an important inflight tanker asset for the British Royal Air Force (RAF). This document provides a history and description of the VC10 -- as well as of the contemporary British Hawker-Siddeley "Trident" jetliner.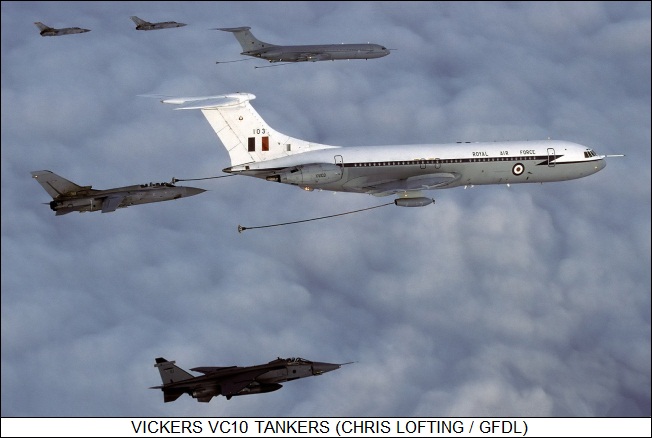 ---
[1] VC10 ORIGINS
[2] VC10 DESCRIBED / SUPER VC10
[3] VC10 IN COMMERCIAL SERVICE
[4] VC10 IN RAF SERVICE
[5] FOOTNOTE: THE HAWKER-SIDDELEY TRIDENT
[5] COMMENTS, SOURCES, & REVISION HISTORY
---
* The first of Britain's V-bombers, the Vickers Valiant, performed its first flight in 1951. It was an aircraft of conservative design, featuring a swept wing, with four turbojet engines buried in the wing roots. Trials showed the Valiant to be very promising, and so the British Ministry of Supply (MoS) became interested in development of a transport based on the Valiant. A order for a single "Vickers Type 1000" transport prototype was placed in October 1952, with the Type 1000 to be powered by four Rolls-Royce Conway turbojets. A tanker version was envisioned down the road. Construction of the prototype began in early 1953.
Following the Type 1000 prototype, Vickers planned to produce a "V.1001" military transport and a "V.1002" AKA "VC7" civilian jetliner. British Overseas Airways Corporation (BOAC) was interested in the VC7; once the MoS placed an order for six V.1001 military transports in June 1954, the project seemed to be on track. However, by that time, the government was becoming indecisive, leading to the cancellation of all their orders in November 1955. There was some faith that BOAC would keep the project alive, but that was not the case, and though the V.1000 prototype was almost ready for rollout, it was scrapped.
Vickers, under Sir George Edwards, went back to the drawing board, working with BOAC and other potential customers to specify a new jetliner. BOAC was interested in a jetliner for service to Africa and Asia, where operation from airfields with "hot and high" conditions were more the norm than the exception, and the new Boeing 707, which BOAC was acquiring for other routes, was seen as underpowered. Passenger capacity was to be 135 seats.
The new machine, which was given the designation of "VC10", leveraged some technology off the VC7 design, but it was really a new aircraft. It featured four Rolls-Royce Conway turbojets mounted in pairs alongside the rear fuselage, a general configuration pioneered by the French Sud-Aviation Caravelle twinjet airliner. This placement reduced noise, reduced stress on the wings, and also provided improved short-field performance by leaving the wings unobstructed for high-lift devices. The twinned engines did have a drawback in that the catastrophic failure of one engine might well knock out its twin. The engine placement meant a tee tail.
BOAC liked the concept, signing a contract for 35 VC10s in January 1958, along with options for 20 more. Other orders followed. British United Airways (BUA) ordered a mixed freight-passenger variant, what would be later called a "combi" machine, with a large side cargo door, in June 1960; Ghana Airways also ordered this variant. This configuration allowed the aircraft to be economically used on routes that wouldn't have supported a dedicated airliner or freighter of that size. The RAF, still in need of a jetliner meeting service requirements after the cancellation of the V.1000, came on board in the same year, ordering a combi variant with 150 seats and various changes to fit military specifications.
The initial VC10 prototype, the "Type 1100", was rolled out from the Vickers plant at Brooklands, England, on 15 April 1962. Initial flight was on 29 June 1962, with company chief test pilot Jock Bryce at the controls, assisted by two other test pilots, Brian Trubshaw and Bill Cairns, along with three observers on board. Trials went very smoothly, with only a few minor changes required during the course of the tests.
The first production machine, a "Type 1101" for BOAC, performed its initial flight on 8 November 1962, with Trubshaw at the controls. The VC10 received its airworthiness certificate on 23 April 1964, followed by the first commercial flight on 29 April, with a BOAC VC10 Type 1101 flying from London to Lagos, the pilot being Captain A.M. Randall.
BOAC obtained 12 Type 1101s, with further orders of the "Super VC10", described below. Ghana Airways acquired two "Type 1102" combi aircraft, with BUA obtaining three similar "Type 1103" combi machines. (Actually, Ghana Airways had originally ordered three but only took two; BUA had originally only ordered two but took the spare, ending up with three.) The RAF Air Support Command obtained 14 militarized "Type 1106" combi aircraft with some features of the Super VC10, and which were given the service designation of "VC10 C.1". In 1968, BUA bought the Type 1100 prototype, updated to "Type 1109" operational specification.
BACK_TO_TOP
* The BOAC VC10 Type 1101 provides a useful baseline for the details of the VC10 family. It was a sleek aircraft, made mostly of aluminum alloys, with a low-mounted swept wing, a swept tee tail, and four Rolls-Royce Conway bypass turbojets -- two mounted on a nacelle on each side of the tail. Although the prototype had thrust reversers on all four engines, the production machine only had them on the outer engines. The fuselage was built in four sections, while the wing was built in three: a center wing section, plus left and right wing sections. There were seven fuel tanks, all in the wings, providing a total fuel capacity of 81,828 liters (21,590 US gallons).
The prototype's wingspan was 42.7 meters (140 feet 2 inches), while the production machine featured a wing stretch to 44.55 meters (146 feet 2 inches). The wings had a sweepback of 32.5 degrees at quarter-chord, with a fence at half-span, and a dihedral of 3 degrees. Each wing featured a full-span one-piece leading-edge flap and five Fowler-type flaps; there were three spoilers on top of each wing, with the spoilers also used as airbrakes. All flight controls were hydraulically actuated, and all flight surfaces were de-iced by engine bleed air.
The hydraulically operated tricycle landing gear featured twin-wheel nose gear and four-wheel main gear, with the wheels organized in a 2 x 2 pattern. The steerable nose gear retracted forward, while the main gear hinged from the wings into the belly. The Type 1101 was powered by Conway RCo.42 engines with 90.6 kN (9,240 kgp / 20,370 lbf) thrust each. There was a ram-air turbine (RAT) for emergency electrical power. Typical passenger accommodations were 109 seats in two classes, with maximum accommodation of 151 passengers, the seats being arranged six across. There were five toilets and four galleys, with two passenger doors forward of the wing on the left side of the fuselage.
The VC10 Type 1102/1103 was very similar, except for the large hydraulically-operated cargo door on the forward left side of the fuselage between the passenger doors, and the wing expanded forward by 4% at the wingroot out to the wing fence, increasing wing area from 264.9 square meters (2,851 square feet) to 272.8 square meters (2,936 square feet). The wingtips were also reprofiled.


   VICKERS VC10 TYPE 1101:
   _____________________   _________________   _______________________
 
   spec                    metric              english
   _____________________   _________________   _______________________

   wingspan                44.55 meters        146 feet 2 inches
   wing area               264.9 sq_meters     2,851 sq_feet   
   length                  48.36 meters        158 feet 8 inches
   height                  12.03 meters        39 feet 6 inches

   empty weight            63,280 kilograms    139,505 pounds
   MTO weight              141,525 kilograms   312,000 pounds

   max speed at altitude   935 KPH             580 MPH / 505 KT
   service ceiling         11,580 meters       38,000 feet
   range                   10,840 kilometers   6,735 MI / 5,855 NMI
   _____________________   _________________   _______________________


One interesting minor feature of the VC10 was that there were provisions for fit of a periscope in the cockpit and the rear fuselage to allow inspection of the rear fuselage and tail, for example to check for ice buildup. The periscope was normally carried stowed but could be installed when needed. There was also a periscope in the floor of the rear galley area, used to check the cargo hold for fires and other problems.
* Even before the first flight of the Type 1100 prototype, Vickers was promoting a stretched variant, the "Super VC10". Early concepts incorporated wingtip tanks and a fuselage stretch of 6.4 meters (21 feet), but BOAC didn't want the wingtip tanks and settled for a relatively modest fuselage stretch of 3.9 meters (13 feet), raising normal passenger capacity to 139 seats in two classes, or 174 seats maximum.
The Super VC10 featured the expanded wing of the Type 1102/1103, and had an additional fuel tank in the tailfin, raising fuel capacity to 88,032 liters (23,227 US gallons). The passenger doors were rearranged so that one was forward of the wing and other was back of the wing. The Super VC10 was powered by uprated Conway RCo.43 engines, with 100 kN (10,200 kgp / 22,500 lbf) thrust each. All four engines had thrust reversers.


   VICKERS SUPER VC10 TYPE 1151:
   _____________________   _________________   _______________________
 
   spec                    metric              english
   _____________________   _________________   _______________________

   wingspan                44.55 meters        146 feet 2 inches
   wing area               272.3 sq_meters     2,932 sq_feet   
   length                  42.32 meters        171 feet 8 inches
   height                  12.03 meters        39 feet 6 inches

   empty weight            66,660 kilograms    146,960 pounds
   MTO weight              151,960 kilograms   335,000 pounds

   max speed at altitude   935 KPH             580 MPH / 505 KT
   service ceiling         11,580 meters       38,000 feet
   range                   11,045 kilometers   6,860 MI / 5,965 NMI
   _____________________   _________________   _______________________


The prototype "Super VC10 Type 1151" performed its initial flight on 7 May 1964, with Brian Trubshaw at the controls. Trubshaw reported that "she flies beautifully, better than the standard VC10, and that flies beautifully, too!" The first revenue flight was on 1 April 1965, from London to New York and then San Francisco.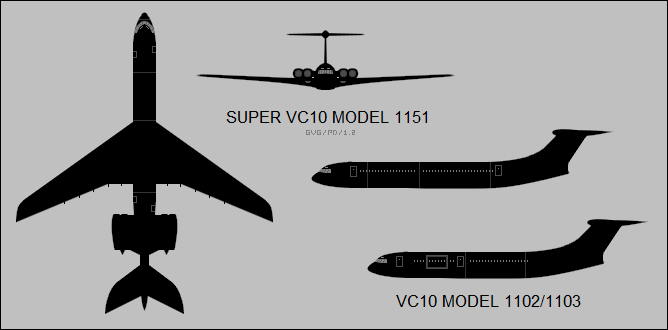 As it turned out, the 1 April date had a certain appropriateness, since by the time the Super VC10 was in service, BOAC didn't really want it, preferring the Boeing 707-320B. The only reason BOAC took the machine at all was because of heavy pressure from the British government, and total deliveries of the Super VC10 Type 1151 to BOAC only amounted to 17, the last being delivered in May 1969, with the deliveries including the prototype. Along with the 12 Type 1101s, that gave BOAC a grand total of 29 VC10s of all makes. BOAC had originally wanted more, with the actual orders placed and aircraft delivered undergoing a confusing history of second thoughts and changes, under a cloud of bureaucratic chaos generated between BOAC and the government.
East Africa Airways did obtain five "Super VC10 Type 1154" combi aircraft, fitted with a forward freight door, with the machines delivered from the end of 1966 to the beginning of 1970. The last machine obtained by East Africa Airways was also the last VC10 built. There was some interest in the VC10 from China and a few other nations, but these countries obtained the Soviet Ilyushin Il-62 instead, a jetliner with the same general configuration as the VC10. The Il-62 was developed at the same time as the VC10, so it is unclear how much influence the VC10 had on the Soviet design, which was generally different at the detail level anyway. In any case, about four times as many IL-62s were built as were VC10s.
BACK_TO_TOP
* Despite the lack of enthusiasm by the airlines for the VC10, it was well liked by crews for its good handling, stability, and reliability -- it was solid from the outset, having few teething problems. Since it was built for short-field operations, it was somewhat overpowered by contemporary jetliner standards, and it was capable of aggressive climbing coming off the runway. Passengers appreciated it for its quietness and comfortable accommodations; it seems that at least some VC-10s had a modular forward cabin that could be adapted to different configurations, for example with a bar or with business facilities. Its sheer elegant good looks were generally admired.
BOAC -- which became British Airways (BA) in the 1970s -- continued to operate a fleet of VC10s through the 1970s, advertising the aircraft with ads proclaiming "VC Tenderness". BOAC / BA VC10s were occasionally leased to Air Ceylon on an individual flight basis. Two were also leased to Nigeria Airways, with the airline buying one later from BOAC, to be lost in a botched landing on 20 November 1969, all 87 on board being killed.
However, by the 1970s the noisiness of the Conways was working against the type, and with such a small fleet of aircraft, there was no way that refitting them with hushkits was economically feasible. The smaller VC10 Type 1151s were retired from BA service in 1974:1976, with five passed on to Gulf Air of Oman; one sold to the United Arab Emirates (UAE) as a VIP transport; and one leased to Qatar, also as a VIP transport. All the Gulf Air machines were sold off a few years later to the RAF. The UAE VIP transport was retired in 1981 and ended up on display at an air museum in Germany. The Qatar VIP transport went back to BA in 1981 and was bought up by the RAF.
The BA fleet lost two aircraft through terrorist action. One Super VC10 was destroyed by Palestinian terrorists at Dawson Field in Jordan on 17 September 1970; it had been hijacked from the Beirut Airport and taken to Jordan, with a TWA Boeing 707 and Swissair Douglas DC-8 hijacked and brought there as well. There were no casualties among the passengers or crew of the airliners. Parts of the Super VC10 wreck were salvaged to help keep the rest of the fleet flying. Palestinian terrorists also hijacked a VC10 flying from Mumbai to London on 3 March 1974, forcing the airliner to land in Amsterdam. The crew and passengers were considerately released, and then the terrorists blew the aircraft up.
Most of the rest of the BA fleet ended up in the hands of the RAF, as detailed below; three were bought by Boeing in 1974 as part of a sales deal for Boeing 747s, and then scrapped. The last commercial flight of a BA VC10 was on 29 March 1981, from Dar-es-Salaam to London.
* BUA, as mentioned, acquired three VC-10 Type 1103 machines, plus the initial VC-10 Type 1100 updated to VC-10 Type 1109 spec, though this machine was promptly leased to Middle East Airways, being returned in 1969. BUA also leased one of their VC-10 Type 1103 machines to Sierra Leone Airways for a short time.
BUA merged with Caledonian Airways in 1969 to form British Caledonian. BCal operated their four machines into the 1970s, but lost the Type 1109 on 28 January 1972 in a hard landing. There was a miscommunication and the copilot deployed the spoilers before the airliner had touched down; of course, the VC10 promptly stopped flying and literally bounced onto the runway, resulting in a "sprung" airframe. There were rattled teeth among the passengers but no serious injuries. According to the story, somebody asked the pilot about the landing: "Is it always like this?" He snapped back: "No, it bloody well isn't! Shut up!" There was some consideration of fixing the machine, but it was not judged cost-effective to do so, and so it was scrapped.
Of the three others, one was sold in 1973 to the British Royal Aeronautical Establishment (RAE) at Bedford, being used for blind landing technology tests until it was scrapped in 1983. The other two were sold in 1974, one to Air Malawi and the other to the Sultan of Oman. Air Malawi flew their machine until 1979, with the aircraft finally scrapped in 1994. The Sultan of Oman's machine was thoroughly refurbished into a luxury personal VIP transport. He eventually replaced it with a Boeing 747SP -- the "Shorty Plane" version of the 747 -- but kindly donated his VC10 to an air museum in the UK. It was flown home to London on 7 July 1987; this was said to be the last flight of a VC10 in private hands.
* Ghana Airways operated one of their two VC-10 Type 1102 machines until 1980, with the aircraft scrapped in 1984. The other was leased out immediately to Middle East Airways (MEA) -- which, as noted, also leased out the refurbished VC-10 Type 1109 prototype from BUA. The MEA machine leased from Air Ghana was blown up on 28 December 1968 while it was sitting empty on the tarmac at the Beirut airport, in a punitive raid by Israeli commandos.
* One of the five Super VC10s in East Africa Airlines service was lost in a takeoff accident at Addis Ababa, Ethiopia, on 18 April 1972, running off the end of the runway after a takeoff abort, with 43 of the 107 passengers and crew killed. When the airline went broke in 1977, the four survivors were repossessed by the manufacturer, to be eventually sold to the RAF.
BACK_TO_TOP
* The VC10 was a pretty and pleasing aircraft, but in commercial service it was effectively a secondary type. It would achieve more status in its service with the RAF.
The initial flight of the first RAF VC10 C.1 / Type 1106 was on 26 November 1965, with the type going into full service with Transport Command in early 1967. All fourteen VC10 C.1 machines were delivered by the end of 1967. When RAF Transport Command became RAF Support Command, all of the VC10 C.1s were given personal names, selected from the most famous winners of the prestigious Victoria Cross medal for gallantry.
The VC10 C.1 was based on the standard VC10 fuselage, fitted with the cargo door and expanded wing of the VC10 Type 1102 / 1103, plus the tailfin fuel tank and uprated Conway RCo.43 engines of the Super VC10. The VC10 C.1 could be fitted with up to 150 passenger seats facing backwards -- a configuration that offered greater safety in a crash -- or with 78 stretchers and seating for attendants. The floor was strengthened, and featured a roller system plus a moveable bulkhead to separate the forward cargo area from the rear passenger area. Maximum cargo capacity was 26,760 kilograms (59,000 pounds).


   VICKERS VC10 C.1 / TYPE 1106:
   _____________________   _________________   _______________________
 
   spec                    metric              english
   _____________________   _________________   _______________________

   wingspan                44.55 meters        146 feet 2 inches
   wing area               272.3 sq_meters     2,932 sq_feet   
   length                  48.36 meters        158 feet 8 inches
   height                  12.03 meters        39 feet 6 inches

   empty weight            64,510 kilograms    142,220 pounds
   MTO weight              146,060 kilograms   322,000 pounds

   max speed at altitude   935 KPH             580 MPH / 505 KT
   service ceiling         11,580 meters       38,000 feet
   range                   11,600 kilometers   7,210 MI / 6,270 NMI
   _____________________   _________________   _______________________


One distinctive feature of the VC10 Type 1104 was fit of a French Turbomeca Artouste 526 auxiliary power unit (APU) gas turbine engine in an extended tailcone, to permit operations at relatively austere facilities. The RAT of the commercial VC10 variants was retained. There was also provision for fit of an inflight refueling probe on the nose directly forward of the cockpit windscreen.
The RAF liked the VC10 C.1 very much, the aircraft having excellent performance, high reliability and serviceability, plus a level of comfort not typically found in military transports. The RAF flew them around the world, employing them in emergencies, and also using them to haul members of the British royal family and other VIPs when a long-range aircraft was required.
* One VC10 C.1, the HUGH MALCOLM, was leased to Rolls-Royce in 1969 to test the new Rolls RB.211 high-bypass turbofan. The two left Conway engines were pulled off and the RB.211 was mounted on a strengthened pylon. Test flights with the RB.211 began in 1970 and continued until 1975, when the aircraft was returned to the RAF. The trials led to the suggestion that the VC10 be re-engined with twin RB.211s, but the idea never got out of the paper stage. Unfortunately, the HUGH MALCOLM's airframe had been stressed by the tests, and it never went back into RAF flight service. It was used as a spares hulk and as a training fixture for British Special Air Service (SAS) commandos, presumably for anti-hijacker exercises.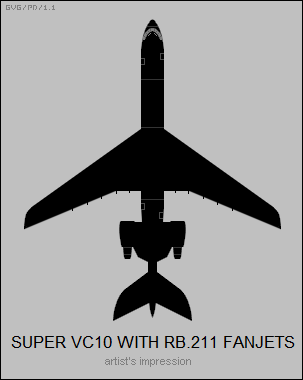 * Vickers had proposed a tanker variant of the VC10 early on, but nobody bit on the idea at the time. The RAF soldiered on for a time using the Valiant, then the Victor and the Vulcan, as tankers, but by the mid-1970s something new was obviously needed.
On 1 March 1978, the British Ministry of Defense issued a contract to British Aerospace -- the ultimate successor to Vickers -- for the conversion of five standard VC10 Type 1101 machines into "VC10 K.2 / Type 1112" tankers, and conversion of four Super VC10s into "VC10 K.3 / Type 1164" tankers. In support of this effort, a total of nine Super VC10 airframes was obtained from Gulf Air (originally BA) and East Africa Airlines stocks. The primary motivation was to support air patrols by new RAF Panavia Tornado F.2 interceptors. The tanker conversions involved:
Fit of a Flight Refueling Mark 28 hose-drum unit (HDU) under each wing.


A Flight Refueling Mark 17B HDU on the rear centerline.


Operator controls, a closed-circuit TV system, and night lighting kit for the refueling system.


Fit of an inflight refueling probe.


Fit of five 3,182 liter (840 US gallon) fuel drums in the fuselage, linked to the rest of the fuel system.


Fit of military kit like that of the VC10 C.1, such as the Artouste APU.
The airframe and other systems were generally refurbished, with structural reinforcements added where necessary. The K.2s were refitted with the uprated Conway engines.
The update was very thorough, producing in the end what were equivalent to new-build aircraft. Initial flight of the first VC10 K.2 tanker was on 22 June 1982, with the machine painted in a gray & green disruptive camouflage scheme. This paint scheme would not actually be used in service, with VC10 tankers actually wearing overall light brown / hemp colors. The last VC10 K.3 tanker was delivered in 1987.
The modification program had taken longer and cost more than expected -- one of the corollaries of Murphy's Law -- but the tankers were what the RAF required, and they were available just in time. The 1982 Falklands War had heavily tasked the existing tanker fleet, and the "new" VC10 tankers entered service in 1984, just as the last of the old tankers were being retired. They were complemented by a set of Lockheed L-1011 Tristar jetliners, bought up by the RAF from commercial service, and variously employed as tankers and transports.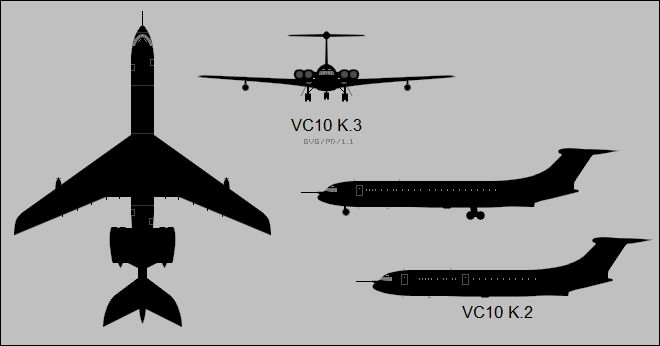 With the retirement of the BA Super VC10 fleet, the RAF obtained 14 ex-BA machines, for use as spares hulks and for possible future conversions. The VC10 tankers were in fact so useful that the RAF decided to obtain more of them, awarding contracts in 1990 to Flight Refueling to update all 13 surviving VC10 C.1 transports -- all the original machines except the HUGH MALCOLM -- to "VC10 C.1K / Type 1180" transport-tanker configuration, and to BAE to update five of the spares Super VC10s to "VC10 K.4 / Type 1170" standard.
The VC10 C.1K conversions were relatively minimal, the aircraft being fitted with Flight Refueling Mark 32 HDUs and appropriate control systems, but no centerline HDU and no fuselage fuel tanks -- meaning the aircraft retained their full transport capability. Initial flight of the first VC10 C.1K was on 11 June 1992.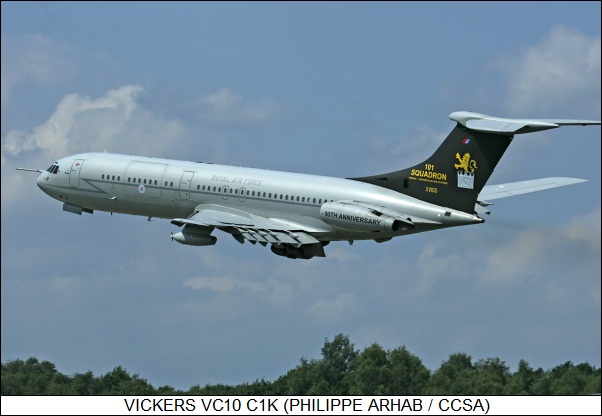 The VC.10 K.4s were externally similar to the VC.10 K.3, with a three-point refueling configuration, but the VC10 K.4s also lacked the fuselage fuel tanks -- the airframes weren't in such good shape, having spent too much time sitting around exposed to the elements, and there was a reluctance to modify them too much -- allowing them to retain some transport capability. The first VC10 K.4 performed its initial flight on 30 July 1993. The last of the second-wave tanker conversions was delivered in early 1996.
* The RAF VC10 tanker fleet was heavily tasked during the Gulf War in 1991, and continued to serve in support of military interventions in the Balkans during the rest of the decade. One of the VC10 C.1Ks -- originally the very first VC10 C.1 obtained by the RAF -- was damaged in 1997 due to incorrect ground fueling procedures that tipped it up on its tail, warping the airframe; it was judged uneconomical to repair and scrapped. The rest of the fleet soldiered on, though special rules limiting payload and altitude were implemented to make sure the VC10 could go on flying.
Airframes were gradually retired as their safe airframe lives expire. All the VC10 K.2s were retired by 2001, the aircraft being set aside as spares hulks, with the remainder of the fleet phased out in 2013, final flight of the last two being on 20 September. The VC10s were replaced by an Airbus A330-200 tanker derivative; the new tanker is more capable in almost every respect, but it is unlikely to ever have the same air of romance associated with the elegant VC10. It is unclear if any of the tankers will end up as museum displays, but one certainly hopes so.
* The following table gives variants and production quantities for the VC-10:

   variant             built  mod  notes
   ____________________________________________________________________

   VC10 Type 1100          1       Initial prototype.
   VC10 Type 1101         12       BOAC machines.
   VC10 Type 1102          2       Air Ghana combi machines
   VC10 Type 1103          3       BUA combi machines.
   VC10 Type 1109          -    1  Updated Type 1100 proto for BUA.
   VC10 C.1               14       RAF transport.

   Super VC10 Type 1151   17       BOAC machines.
   Super VC10 Type 1154    5       East Africa Airlines combi machines.

   VC10 C.1K               -   13  VC10 C.1 tanker-transport update.
   VC10 K.2                -    5  Standard VC10 tanker update.
   VC10 K.3                -    4  Super VC10 tanker update.
   VC10 K.4                -    5  Super VC10 tanker-transport update.
   ____________________________________________________________________

   TOTAL                  54 -- 32 VC10s & 22 Super VC10s (27 tankers)
   ____________________________________________________________________


Some sources give a total of 57 VC10s, but for once production records are fairly unambiguous, and 54 seems like a pretty solid number.
BACK_TO_TOP
* In parallel with the VC10, the Hawker-Siddeley firm of the UK developed a tri-jet airliner, the "Trident". In 1956, British European Airways (BEA) generated a requirement for a short-haul jetliner; four companies offered proposals, Vickers suggesting a VC10 derivative, but the de Havilland firm won the award in 1958 with its "DH.121 Trident".
At the outset, the DH.121 was to have three Rolls-Royce Medway low-bypass turbofans and a passenger capacity of 140 seats. BEA, however, wanted the design changes to a smaller aircraft, with no more than 100 seats, with the revised design to be powered by Rolls-Royce Spey RB.163 low-bypass turbofans. An initial order was placed in 1959. In 1960, de Havilland was acquired by the Hawker-Siddeley group, the DH.121 becoming the "HS.121", though in design was referred to as the "Trident 1".
The Trident 1, as such, would never be built. The BEA requirement for a smaller jetliner got the Trident off on the wrong foot for international orders. After discussions with American Airlines (AA), Hawker-Siddeley came up with a design for a larger "Trident 1A", but it was never built; AA chose the Boeing 727 instead, which ironically matched the original DH.121 design. Some changes developed for the Trident 1A, primarily more fuel tankage, were rolled into the prototype, which confusingly became the "Trident 1C", though it was publicly known as the Trident 1. Initial flight of the first Trident was on 9 January 1962, with John Cunningham at the controls,with entry to service with BEA in the spring of 1964.
The Trident was a sleek aircraft, made mostly of aluminum alloy, with a low-mounted wing and tee tail, all flight surfaces being swept; tricycle landing gear; and three turbofan engines in the tail, one on each side and one in the tailcone, fed by a intake in the base of the tail. The wings had a sweepback of 35 degrees, featuring drooping leading-edge flaps outboard on each wing; a leading-edge flip-over Krueger flap inboard on the wing; ailerons and double slotted flaps; and a spoiler to act as airbrake or lift dumper. The tee tailplane was mated to the tailfin by a bullet fairing. Powerplants were Spey 505s with 43.8 kN (4,468 kgp / 9,850 lbf) thrust each.
The nose gear had twin wheels and was offset to the left, retracting sideways to the right. Each main gear assembly had four wheels on a single axis, retracting into the fuselage by turning 90 degrees and pulling up 15 centimeters (6 inches). Passenger capacity was a maximum of 103 seats; there were galleys and toilets, and of course the aircraft was pressurized and climate-conditioned. There was a passenger door behind the cockpit and in front of the wing on the left side of the fuselage, with a matching service and crew door on the right side of the fuselage behind the cabin. Later variants also had a service door on the right in front of the wing; it is unclear when this door was introduced into production. There was a single emergency exit over each wing. There were baggage holds under the floor, fore and aft of the wing.
The Trident was to feature a very sophisticated avionics suite by the standards of the time, including a "Smiths Autoland" automated blind landing system -- useful for dealing with the fogs that often cause difficulties at Britain's airports. The initial version of this system lacked full capability. The aircraft also had a magtape-based digital flight recorder.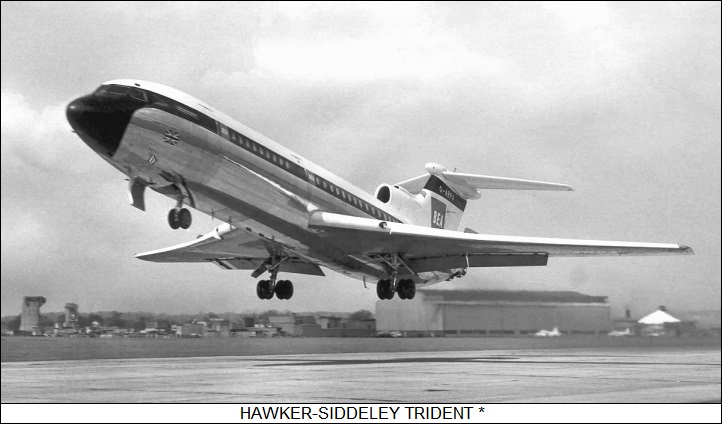 The next production model was the "Trident 1E", which was similar but had higher MTO, a wing with span increased by 1.57 meters (5 feet 2 inches) and wider chord, and Spey 511 engines with 50.7 kN (5,170 kgp / 11,400 lbf). Typical capacity was 115 seats, though 139 could be handled in a high-density configuration, with twin emergency exits above each wing in that case. Only 15 Trident 1Es were sold.


   HAWKER SIDDELEY TRIDENT 1E:
   _____________________   _________________   _______________________
 
   spec                    metric              english
   _____________________   _________________   _______________________

   wingspan                29.87 meters        98 feet
   wing area               135.26 sq_meters    1,456 sq_feet   
   length                  34.98 meters        114 feet 9 inches
   height                  8.23 meters         27 feet

   empty weight            33,205 kilograms    73,220 pounds
   MTO weight              65,320 kilograms    144,000 pounds

   cruise speed            975 KPH             605 MPH / 525 KT
   cruise altitude         9,145 meters        30,000 feet
   range, typical          3,965 kilometers    2,465 MI / 1,530 NMI
   _____________________   _________________   _______________________


BEA then decided they needed a Trident with more range, with Hawker-Siddeley working on a beefed-up "Trident 1F" in response. The requirement gradually upscaled further, with the new model becoming the "Trident 2E", the "E" standing for "extended range" in this context. It featured wing leading-edge slats instead of drooping flaps, wings further extended by 91 centimeters (3 feet) with "carrot" tips to reduce drag, a fully functional "triplex" Smiths Autoland system, and Spey 512s with 53.1 kN (5,410 kgp / 11,930 lbf) thrust. Initial flight of the Trident 2E was on 27 July 1967, with entry into service in April 1968.
* BEA liked the Trident 2E, but needed a still larger jetliner. The airline wanted the Boeing 727, but the British government vetoed that idea, so Hawker-Siddeley came up with a still bigger design, the "Trident 3B", which started life as a Trident 2E with a 5 meter (16 foot 5 inch) fuselage stretch and more wing area. BEA thought it underpowered, inadequate for "hot & high" operations; Rolls-Royce had no thought of following up the Spey 512 with anything more powerful, so Hawker-Siddeley engineers simply scrunched a little Rolls-Royce RB.162-86 turbojet into the tail above the Spey, this engine being fed by a duct tapping off the main inlet.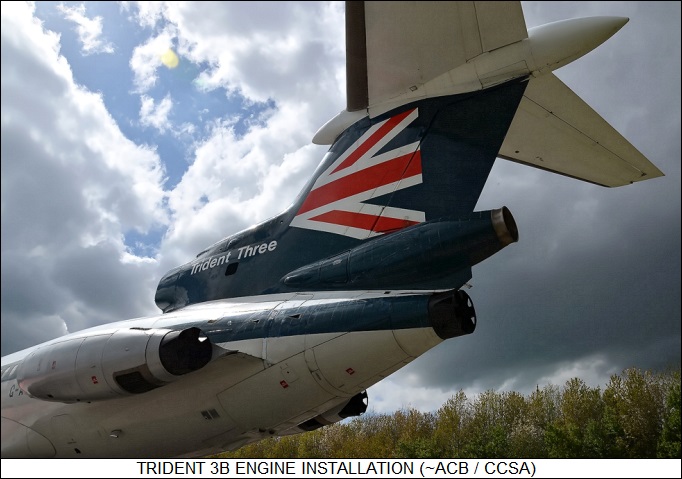 The RB.162 was a "liftjet", designed for vertical takeoff aircraft, being very compact and able to generate high thrust for its weight for a limited period of time. It provided 23.35 kN (2,380 kgp / 5,250 lbf) thrust, adding 15% to takeoff power, but only increasing weight by a 5%; it was only used for takeoffs, the intake duct being sealed off by doors when it wasn't in operation. BEA accepted this solution as the "Trident 3B", with 26 ordered. Maximum passenger capacity was 180 seats; it appears twin emergency exits above each wing were standard. Initial flight of the Trident 3B was on 11 December 1969, with the type entering service in the spring of 1971.
The last two Tridents built were "Super Trident 3B" machines, externally identical to the Trident 3B but with additional fuel tankage and 152 seats. That was the end of the line for the Trident, with 117 built in all to final production in 1975. BEA was the biggest user, but China was also an enthusiastic operator, obtaining 35, the two Super Tridents being built at Chinese request.
The Trident lingered in service for several decades, with a number still surviving as static displays. The following table gives variants and production quantities:

   variant       built   notes
   _________________________________________________________________________

   Trident 1C       24   Initial production variant.
   Trident 1E       15   Greater MTO, leading edge slats, uprated engines.
   Trident 2E       50   Greater MTO, stretched wings.
   Trident 3B       26   Stretched 2E with booster jet.
   Super Trident 3B  2   3B with more fuel.
   _________________________________________________________________________

   TOTAL:          117
   _________________________________________________________________________
   

Tridents were used as military transports by China and Pakistan, but it doesn't appear any were fitted out for other military missions. Although over twice as many Tridents were built as VC10s, the VC10's service as a tanker gave it a prominence in the records above that of the Trident.
BACK_TO_TOP
* There were a number of unbuilt concepts for the VC10. One was for an air freighter version of the Super VC10, with a nose that swung open to one side for freight loading. It had wingtip tanks, which suggests that it was considered in the initial days of Super VC10 development.
There was a proposal for a short-haul derivative of the VC10, to be designated the "VC11"; it is unclear if it was merely a "short" VC10 or was substantially redesigned, but in any case it didn't happen. At the other end of the scale, there were concepts for "jumbo jets" based on the Super VC10, one with two fuselages and a total passenger capacity of 300 seats, and one with three fuselages and a total passenger capacity of 450 seats. Not too surprisingly, nobody bit on these notions.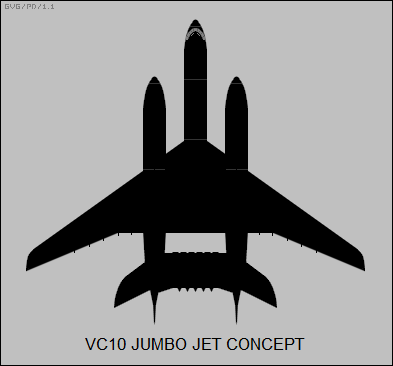 In addition, although the documentation is sketchy, there were concepts for what would have been a family of purely military aircraft based on the VC10, using a modular design approach, in which different elements -- nose, wings, engines -- would have been mixed-and-matched accordingly. The family would have, at least in principle, included antisubmarine warfare and airborne early warning variants, along the lines of the BAE Nimrod; an air-defense variant, carrying long-range air-to-air missiles under the wings; and even a strategic bomber, carrying four or eight Skybolt air-launched ballistic missiles under the wings. Of course, none of it happened.
* As concerns copyrights and permissions for this document, all illustrations and images credited to me are public domain. I reserve all rights to my writings. However, if anyone does want to make use of my writings, just contact me, and we can chat about it. I'm lenient in giving permissions, usually on the basis of being properly credited.
* Sources include:
"Queen Of The Skies: Homage To The VC10" by Frank Prince, AIR ENTHUSIAST, March-April 2001, 28:41.
I picked up quite a bit of data from Jelle Hieminga's VC10 website, which had a few interesting anecdotes and what seemed from its grasp of details to be the most accurate history of the VC10 in commercial service.
* Revision history:

   v1.0.0 / 01 jan 06 
   v1.0.1 / 01 feb 06 / Review & polish.
   v1.0.2 / 01 jan 08 / Review & polish.
   v1.0.3 / 01 dec 09 / Review & polish.
   v1.0.4 / 01 jun 11 / Review & polish.
   v1.0.5 / 01 apr 13 / Final VC10 retirement.
   v2.0.0 / 01 feb 14 / Added HS Trident.
   v2.1.0 / 01 jan 16 / Added comments on purely military versions.

BACK_TO_TOP
---
---

---